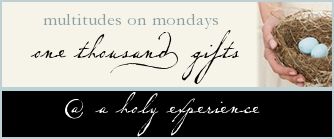 Giving Thanks to GOD this week for .... trying to count the
Endless Blessings .....................
6370 Monday ~~For this day !!! that I have a Boony hat for the rain !!
6371 For Each night I come home to Christmas Tree lights there is just something that is so peaceful to sit with nothing but the lights ....wonderful feeling
6372 Tuesday ~~for this day !!! a day off , to try and get some Christmas shopping done .
6373 Safety in our travels for shopping ,also for being the feet of my other brothers and sisters to buy some groceries for others
6374 That over whelming gift I received to help someone else ...
6375 Wednesday ~~for this day !!! as each day is a gift from GOD
6376 Getting off work early, that the day is warm an sunny as I went to take a cross and flowers to my brothers grave , for the little Christmas Tree is kids had placed there
6377 Going to Subway for dinner and taking the subs to the park to enjoy the lights
6378 Thursday ~~for this day !!! for each and every minute of this day
6379 Friday ~~For this day !!! waking up praying for others , having my former pastor and his wife on my mind and praying for them . for knowing that GOD is listening to my prayers
6380 Thankful for just a dusting of Snow , the first snow of the season and it was a big one !!
6381 For the scarf from Lisa I love it !!!
6382 That Chuck and I have each other
6383 Saturday ~~For this day !!! For Love
6384 That My husband had a safe trip to his mom's and back , that he came in and visited me at work
6385 For my family and their love that we can freely express to each other
6386 Sunday ~~For this day !!! the gift of another day how blessed
6387 For getting to church on time tonight and the youth at the church I attend on Sunday nights
6388 For Elizabeth and her kind words ....
I know this may bore some of you , but I must keep this going for none other than me
so I stop to give thanks for each day !!!