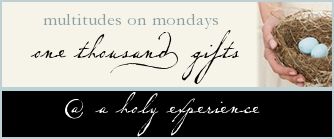 Giving Thanks to GOD this week for .... trying to count the
Endless Blessings .....................
6356 Monday ~~For this day !!! for each and every blessing I have received today
every breathe, every step , every second of this day !!
6357 Tuesday ~~For this day !!! For the love I feel each morning when
my husband wakes me and says good morning I love you along with bringing
my coffee.
6358 For my husband having dinner waiting one me when I got home from work
baked lemon pepper chicken , sweet potatoes , green beans and corn how thoughtful , how blessed I am
6359 Wednesday ~~For this day !!! For the nights rest , the morning light
the sunshine this afternoon, for shelter from the cold , my husband having
dinner fixed again ...how blessed I am not only this day but each day
6360 Thursday ~~For this day !!! a morning of beautiful sunshine even at 29 degrees, the people that stood in line for me so I would not have to stand out in the cold. For Oats, Peanut Butter, Cranberry Sauce, Pinto Beans, Green Beans, that I received today thank you Lord .
6361 For Antibiotics to help my throat
6362 Chucks love for me not wanting me to be cold or to stand out in the cold .
6363 Getting off work early
6364 Friday ~~For this day !!! another fresh morning to start anew
6365 On my way to work seeing the tall weeds and wire fences with frost it looks so beautiful with the sun shinning brightly on them
thank you Lord for the beauty I saw n the frosty morning !
6366 Saturday ~~For this day !!! the warmer morning, the sun shinning brightly , my neighbor thinking I was singing jingle bells early this morning ....joyful morning !!!
6367 Sunday ~~For this day !!! blessed with another day , for each minute of this day is a blessing
6368 Studying in Acts ....
6369 Blessed with my husband coming around to my side of the bed to kiss me good night , instead of the normal kiss in bed ....
Thank you Lord for this week of blessings ~~~~Endless~~