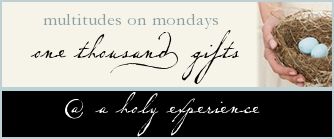 Giving Thanks to GOD this week for .... trying to count the
Endless Blessings from GOD ..............................
6310 Monday ~~For this day !!! for the 54 years GOD has allowed
all the many blessings , for giving me the parents that taught me great
values, for a family that has loved me 54 years ....
6311 For the Greeting on the wall when I came in to work with balloons
6312 For the Cake Lisa made it was so cute a blue and white huge cupcake
6313 For all the face book, text, calls, cards, gifts, how blessed with friends from several states..........
6314 Tuesday ~~for this day !!! even though I overslept I got to work on time
6315 A sweet nephew Deuce ...
6316 For the welcoming lights of the Christmas trees they make our house cozy
6317 Wednesday ~~For this day !!!
6318 For Bedside coffee brought with a hug and kiss
6319 Thursday ~~For this day !!!
6320 For Safe travels today
6321 For groceries I purchased this evening also for the good sale
on clothes I ran into this evening
6322 Friday ~~For this day !!!
6323 Seeing the beautiful sunrise this morning
6324 Safe Travels and good report from my mammogram
6325 Laundry Mat being close when needed
6326 Saturday ~~For this day !!! the nights rest
6327 For a busier day at work
6328 Seeing the Santa and loved his words to me "Merry CHRISTmas and happy forever !! I think I might have to start saying that !!!
6329 Thankful our sweet dogie champ hasn't throwed up today and was able
to keep down his rice tonight
6330 Sunday ~~For this day !! as with each day its a precious gift given to us
from our Heavenly Father!!
6331 Thankful for this day of worship ~~the first day of advent ~~
6332 The beauty of the church and all the people there this morning
6333 That I have a job even if I have to work on Sunday ~~Also knowing that GOD is working out what is best for me .......
6334 Aaron telling the Pastor the Master took my hand ....he had never shared this with no one before .. I am excited to hear the rest of what Aaron has to say
when ever he decides to tell it ....
I Praise GOD for every day that he has given me what precious gift each day is
I havent used them wisely praying that I will do bettter with each day !! a href="http://www.mylivesignature.com/" target="_blank">