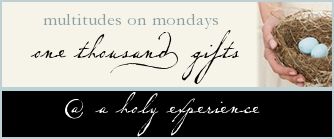 Giving Thanks to GOD this week for ..........
5112 Monday ~~For this day !!! Thank you LORD for waking me this morning !!!
5113 For the lady at the convenience store that I stopped to get gas I came in saying wow that truck sure takes alot of gas and she said you are blessed to have the truck and pay for the gas ......I had to stop and say yes I am blessed that's for sure ....
5114 For my sister going with me today thankful for her being able to go with me and us doing some shopping and her laughter .............
5115 For CW liking his one cup coffee pot that I got at a deal
5116 Tuesday ~~For this day !!!
5117 For LC bringing me Kering Coffee
5118 For getting my book for our ladies bible study
5119 Wednesday ~~for this day !!!
5120 For his Goodness each day that he shows to me
5121 For time this morning to ready some in our study
5122 For prayer time on my knees after work ..........Knowing that GOD will supply the need
LC and I have .......
5123 For a long hot bath after work
5124 For so reading in our study of our inheritance from GOD
5125 For finding a email that Buggs had sent to me and he always ended I love you and Chuck !!
5126 For Chuck getting a picture of his dad when he was a baby
5127 Thursday~~For this day !!
5128 For the ladies in our bible study and the study that we are doing
5129 Friday ~~For this day !!!
5130 Thankful that we finally were able to keep our eye appt.
5131 Thankful that LC knows so much about computers
5132 For the laughs over me calling in about the computer
5133 For my husband waiting at home for me
5134 Saturday ~~For this day !!!
5135 For going to bed really early last night and sleeping in this morning
5136 For this day off !!
5137 For my devotional book that came today
5138 Sunday ~~For this day !!!with each day ...it is the day that the LORD has made
5139 For the sunny warm day today
5140 For my church were I worship
5141 For a sweet little Brookster that brought me a treat to work
Many Thanks to my Saviour for the Multitudes of blessings on me this week !!!