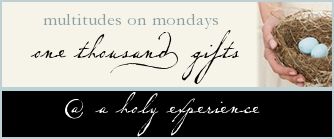 Giving Thanks to GOD this week for ..............
5018 Monday ~~For this day !!!
5019 Coming home to lights on the CHRISTnas tree that I love so much I sat to enjoy
for several hours
5020 Getting most of the laundry done !!
5021 Thankful for LOVE , LOVE I still have in my heart for my brother whom
I miss so very much !!!!
5022 Tuesday ~~~For this day !!!
5023 Waking up at 3 am to hear the rain ..........thank you LORD for ears that I may hear many sounds !!
5024 For my Gilligan hat !!
5025 Talking with my Uncle Roy and that he is going to Blues today
5026 Wednesday ~~For this day !!!
5027 Morning Sunshine and its only 84 days until spring !!!
5028 Thankful for my family that could be with my nephew during a very happy day in his life
and I pray that he will serve his district well .
5029 Thankful that Uncle Roy got to be with Blue and other family members today
5030 Thursday ~~For this day !!!
5031 Thankful to have a extra day off this week
5032 Thankful that my husband and I got to go out for lunch/supper today
5033 Thankful that Champion finally got a bath
5034 Friday ~~For this day !!!!
5035 Thankful for the sunshine this early morning
5036 For talking with my brother, that we can share in each others happy times and cry with each other as well ................a brothers love...................
5037 For my doggie being happy to see me each day
5038 Saturday ~~For this day !!!! New years eve !!
5039 Another warm sunny day here in my neck of the woods
5040 For Cora telling me to ck bc
5041 For the enjoyable evening spent quietly at home with just my husband and I
5042 For waiting up to see the new year in thank you Lord
5043 Sunday ~~For this day !!NEW YEARS 2012
5044 For the rain, the snow, and the sunshine all in today
5045 For cooking our regular new years day dinner
5046 For traditions that I hold dear
5047 For memories of the past year that I will forever hold near and dear to me
5048 For all the colored lights on our trees that I have so enjoyed
5049 For starting reading in Genesis praying I can read the bible Thur this year
Blessed with another year
Thank you Lord for you blessings on me ......................