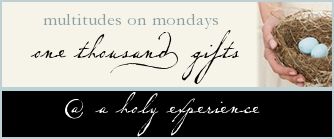 Giving Thanks to GOD this week for ..............
4251 Monday ~~For this day !! A morning of sunshine and colored trees
4252 For Margaret feeling free to talk with me
4253 For praying to GOD while talking to some one else for words to say to them ~~isn't GOD awesome ~~~
4254 For Bear Creek potato soup
4255 Tuesday ~~For this day !!!
4256 Thankful that my husband is a morning person to bring me coffee to my bedside each morning
4257 For Tears of Love ~~I know GOD understands and knows the love I have for my love ones and how they are missed ....Knowing that one day all my tears will be dried and our family will be together again ................
4258 Knowing that GOD is the comforter
4259 Thankful for Lisa's great yummy lunch
4260 Thankful for days when you are just weak that GOD still gives you strength ~~~thank you LORD for your strength today
4261 For the back rubs from my husband
4262 Wednesday ~~For this day !!!
4263 For a good nights rest that was much needed
4264 Margaret stopping in and talking
4265 That GOD's Grace is sufficient each day and his kindness toward this ole gal
I am so grateful for
4266 My husband blowing my hair dry and the laughs that went alone with it
4267 Thursday ~~For this day !!!
4268 Bedside coffee brought by my husband
4269 Hugs from Jimmy, Gaye and Bill = I have a loving family and was taught by a wonderful loving mother and father
4270 That My family had safe trip here and back home
4271 My talk with Karen Sue planning our CHRISTmas party
4272 That Love wins .....and we will continue to Love when others don't seem to want to =OD will win our battles when we love thank you LORD for allowing me to pray for others that I know you will show them LOVE and the right way
4273 For the little buds of tomatoes I saw ~~Thank you LORD for allowing me to have these plants
4274 For our ladies bible study and the faithfulness of each one also praying for others and the ones that couldn't be there
4275 Friday ~~For this day !!!
4276 Lisa and our safety in our travel for training today
4277 That Lloyd is getting a new friend a new puppy
4278 That we have umbrellas when it rains
4279 Saturday ~~For this day !!!
4280 My three day weekend starts today
4281 My husband brings me coffee to bed on my day off
4282 A call that says are you going to be home
4283 A enjoyable visit from Chucks Aunt and Uncle ~~that they took the time out to drive to see us before going back to Fl.
4284 Our date night lunch/dinner combo out of town
4285 Sunday ~~For this day ~~~!!!
4286 Studying the bible study on faithfulness of GOD = Thank you LORD for your
faithfulness each moment of the day
4287 For my Talk with Aunt J and how she could not have ever made it these 80 years without
the LORD just hearing her tell of her walk with JESUS and how she wants other to know JESUS makes you feel so good
4288 A day of rest ......................
Thanks be to GOD for his many blessings on me and my family this week
Glenna