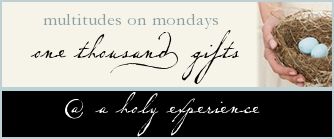 Giving Thanks to GOD this week for ..............
4110 Monday ~~For this day !!! a new week , fresh to start over to try and do better with all areas of my life ...........
4111 For the wind == we cant see it but can feel it reminds me of we cant see GOD but we sure can feel him and his Holy Spirit
4112 Thank you Lord for always being on time !!!
4113 Tuesday ~~For this day !!!
4114 Thankful to just lay in bed and drink coffee on a 50 degree morning
4115 Thankful that my husband could get the synivisc injection
4116 That my husband and I had lunch together
4117 Safe travels with my husband and back
4118 Thankful that GOD just doesn't want me to quit when it gets hard for me
and I think I will just throw in the towel as to say ~~
4119 Thankful for Sondia my prayer warrior and that I can talk to her about anything
she is there for me
4120 Wednesday~~For this day !!!
4121 The sunshine this morning
4122 For forgiveness when I am totally off course
4123 The love of GOD after a total failure for bearing any fruit for GOD
4124 For Taking pictures of Abby that she so enjoyed and I enjoyed taking them for her
She was one of her Poppy's babies ~~
4125 That Lisa let me borrow her camera for the photo shoot
4126 Thursday ~~For this day !!!! Fresh day to TRY again
4127 For encouraging words as yesterday was just one day
4128 Thankful to be buy some refreshments for our ladies bible study
4129 The bible study
4130 Love when it is true love you will know it ....and that GOD allow our spirits to bear witness with one another knowing when its of GOD and when its not
4131 Friday ~~For this day !!!
4132 Thankful for the candle lady bringing a candle that I had promised to Lisa in Fl.
4133 That its payday =I can pay our bills
4134 Lisa bringing left overs today
4135 Thankful for the studying on fruits of the spirit
4136 Saturday ~~For this day !!!
4137 My first cup of coffee was brought with" love and affection " quoted my husband
4138 My day off so I can sit and enjoy some more coffee
4138 Thankful that I got some things done outside moved my tomato plants to a indoor location praying they will bloom and produce tomatoes this winter
4139 Thankful that my husband loves the time when I am off to be with him
4140 Safe travels to lunch and back
4141 Grocery shopping finding great buys
4142 Coupons for saving on many items
4143 Sunday ~~For this day !!
4144 For the beautiful Sunshine this morning
4145 For Craig's words about the post last night
4146 Thankful that GOD does cover us
4147 For safe travels to K town
4148 For GODs amazing Love for me
Thank you Lord for this past week and that you have loved me when I am have so very
unlovable, not the kind of fruit you would have me to be .
Glenna