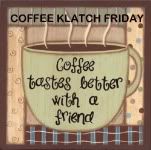 Coffee Klatch asked to
Please list 10 random things that you have have never done
1 I have never sky dived ~~I have so wanted to do.
2 I have never camped out in a tent
3 I have never been to London England
4 I have never been on a cruise ship
5 I have never owned a convertible car
6 I have never had a professional massage
7 I have never done snow skiing
8 I have never been drunk
9 I have never been to New York City
10 I have never eat Lobster
SUBJECT:
Please share with us something that you do to prepare for this changing weather.
Just this morning my husband and I was discussing some of the things that
needed to be done in our yard , the lawn mowed , weed eated and put stabilizer
in the mowers for winter.
I hope to have some pretty warm days to clean out the garage so we can park our
car and truck in it during the winter.
I need to cut back most of my perennial flowers and glue the roses
Fix our outside dog the warm items she needs for winter
So glad to find this link ...sorry I was a little late in joining
Cant wait to read other post
Blessings to all
Glenna