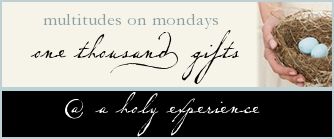 Giving Thanks to GOD this week for ..............
4184 Monday ~~ Lord for this day I am thankful ~~Thankful for a fresh week to start over and try to do better with all areas of my life .
4185 Leaving for work a little earlier to drive a different work for some pictures
4186 For the light that shines Thur the trees this morning
4187 Thank you Lord that Love never dies , our loved ones may come home to be with you but our love for them contiunes
4188 Thankful for my lunch time that allowed me to drive to the cemetery to take wind chimes for Buggs grave ............
4189 For 2 Samuel 6:14 And David danced before the LORD with all his might; and David was girded with a linen ephod. ....
4190 For work laughter
4191 Finished this weeks study on Peace ........Peace only comes from GOD
4192 Tuesday ~~For this day !!!!
4193 That my tomato plants are growing and blooming = a thankful heart for blooms
4194 For candles when its rainy and cool makes our house cozy = thank you Lord that I have that cozy house
4195 Wednesday ~~For this day !!!!
4196 Thankful to get in and out of the Drs office early
4197 To go visit my sister this morning after my Dr visit
4198 For people that has knowledge and is willing to share it ......thankful for M and all other that share
4199 Thursday ~~For this day !!!
4200 Thankful for our ladies bible study
4201 Thankful for knowing about the folded napkin indicating that JESUS would return when they found the burial cloth laying in the tomb = Thank you JESUS for your love for me
4202 A warm shower after being so cold
4203 Friday ~~~For this day ~~!!!
4203 Thankful that my husband is a morning person
4204 Thankful for a free Pumpkin spice latte
4205 For the bright sun on my drive to work
4206 For thinking of my sweet mother this morning on my way to work , how blessed I am to have had a mother that taught me about JESUS and his love and now she is with him
4207 For Elizabeth and the prayer she prayed today at work
4208 Saturday ~~For this day !!!
4209 For being off and being out with my husband enjoying the day
4210 For Lisa letting me use her camera for another picture taking of kids
4211 Thankful for some quiet time to study the fruit of the spirit
4212 Sunday ~~For this day !!!
4213 Thankful to get up early and be outside sitting toward the east before sunrise to finish the study on patience ....What a beautiful way to start the morning to sit and thank GOD for this morning and pray for the needs of today .
4214 Thankful that GOD is patient with me each day
4215 For our pastor and the children's church this morning singing amen .....
4216 For our pastor message that he is continuing we need to tell others of CHRIST
4217 For two beautiful girls wanting their pictures took and it being a beautiful day ~~Windy but beautiful ~~
4218 Thank you Lord for the sun, the wind, the leaves falling with color around me as I was out in nature today walking some paths for pictures enjoying every minute of GODs beauty
4219 For my nieces as they are beautiful to me !!! Poppy was sure proud of them and I know he is smiling down on us today
4220 For friendly people along the trails and For Family that I love so dear
4221 Finishing up week six of the fruits of the spirit ..........
This week of Thankfulness as I have studied about Patience in our fruits of the spirit study
LORD
I sure do thank you for your patience with this sinner saved by your grace , and I know I am one that you say over and over Glenna try it again do better this time .
For the many blessing's of life given each day I do Thank you LORD , My SAVIOUR and my King
its wonderful to be called a kings child and know that your HEAVENLY FATHER owns it all
Amen .....................................