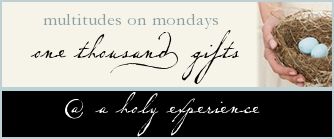 Giving Thanks to GOD this week for ..............
4149 Monday ~~For this day !! that GOD woke me up this morning as with each day we wake up I think its his way of saying good morning child I have woke you up this morning ~~I gave you this gift ~ so Lord I pause to say THANK YOU for this morning wake up
4150 Coffee brought to my bedside this morning with love and hugs
4151 That I have another day off as this day is sunny and beautiful
4152 For a wonderful three days off that I have so enjoyed
4153 For CW saying I need to kiss the cook
4154 Tuesday ~~~For this day !! and all the beauty of this morning
4155 My husbands safety in travels today and these injections are helping his knee which I give thanks to you GOD for giving knowledge to Dr s to help others
4156 That GOD made husband and wife to share all things together as one
4157 That my name is in the lambs book of life ..........
4158 Studying on Joy one of the fruits of the spirit
4159 Wednesday ~~For this day !!~~Another morning wake up from my Heavenly Father
4160 For Hugs and Kisses from the one I love ~~For the I love yous and hope you have a great day !!
4161 For a place to go after work ..home sweet home ...Shelter ....
4162 Thursday ~~For this day !!!!
4163 For studying about JOY this week and listening to the kids sing I got that joy way down deep in my soul !!!
4164 Lunch provided for us from Missy
4165 Ladies bible study
4166 Thankful Lord that I know your voice and blessed that your love me
4167 Friday ~~For this day !!!
4168 Waking up to hugs from my husband and cuddles from a warm fuzzy doggie
4169 Thankful for memories ~~of Buggsey ~~I sure do miss you ~~~ my sweet humble brother not only my biological brother also my brother in Christ as he always said to me ..Praying for his wife and Children
4170 Thankful that I can try to green house my small tomatoes plants at work praying they produce winter tomatoes
4171 That I had quiet time to study GODs word on Peace thankful that he sent his son
Jesus so that we can have the peace that passes all understanding
4172 Saturday ~~For this Day !!!
4173 The words I bring you coffee because I love you so much !!!:>)
4174 Thankful that my roses are still blooming as you can see in the picture below
I was greeted with a rose bud as it had been kissed with the dew of our heavenly father
Thank you Jesus for this gift of the morning such beauty you allow me ...................
4175 That I had a busy day today thank you Lord
4176 Sunday ~~For this day !!!
4177 Thankful for that we sat aside this day to worship and that I can watch TV ministries when I overslept for church this morning , Forgive me for not Attending our local Church = A Loving and forgiving GOD
4178 That I have this day to rest
4179 Thankful that I still have some flowers to work in this afternoon as it has been a beautiful
day
4180 For windows and doors to open
4181 For Tom and Earlene and the work they do in their church
4182 For my family having a great time at the pig roast
4183 For kind comments from Craig
Thankful for this week and all the beauty that GOD has allowed me for things seen and unseen
I am so thankful for GODs unseen hand ......................