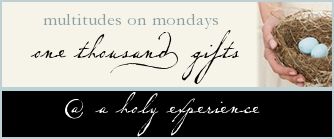 I AM THANKFUL FOR
3543 Monday ~~~for this day !!!
3544 Thankful that I am in week 52 of thankfulness , WOW , I am blessed ~~ Multitudes has opened my eyes to the many things I have each day to stop and say Thank you LORD for your blessings on me ..
3545 Sissy stopping by to give me copies of some things my brother had wrote before he went to heaven !!
3546 For the french manicure Sissy gave me !
3547 Lisa bringing us lunch
3548 That the heat is on when I get home = blessed with a warm house
3549 My cousin Greta's package I received in the mail
3550 Tuesday~~~for this day !!!
3551 Called my cousin Greta to find out what kind of plant this would be .....
3552 Tina is back on line = my prayer partner is back
3553 Lc came back to see if I was OK ,as I had pulled off to make a call
3554 Wednesday ~~for this day !!!
3555 For ice packs at 4 am
3556 Reading some in LC's book she let me borrow
3557 I can hear the birds this early morning as they sing in the rain
3558 Love nature my lady dog chasing 2 squirrels this made me laugh =Laughter is good for the body
3559 Taking off work early to spend time with my husband and have dinner at a new Japanese place
3560 Thursday ~~~for this day !!!
3561 Seeing sunshine this morning
3562 Free drinks from Sonic ~~Cherry Limeade
3563 Cw called to say he was sorry about something ~~~~ sweet~~~
3564 Forgiveness
3565 Reading the book one thousand gifts by Ann Voskamp
3566 Friday ~~~For this day !!!
3567 Going shopping before work for my mother in law birthday gift
3568 Finding my SIL a cute little something for her as well
3569 Helping a team mate to show them how to see if its under warranty
3570 A job with big windows to see the sun Thank you Lord for allowing me to see the sunshine today
3571 Thankful for the valley's as it makes those mountain tops sweeter
3572 Thankful to know that when I am weak GOD is my strength
3573 For prayer partners today
3574 Saturday ~~for this day !!
3575 My day off
3576 My husband taking me to the most wonderful place Wolf gardens to get my flowers
3577 Thankful to share fries and a tea on the way back
3578 My husband getting to see some people at the gardens that he hadn't saw in years
3579 Getting more mulch = putting some of it down ( no one knows how Thankful this makes me to be out there working putting down the mulch and planting flowers =Thank you LORD for your blessings on me
3580 Fixing a hummingbird feeder along with a regular bird feeder for our back yard to =enjoyment of nature on the deck =blessed to feed GOD's creatures
3581 Thankful to stand in my garage and Praise GOD for his blessings on me
3582 Taking Chicken to my mother in law for her birthday
3583 Thankful to celebrate a day late with my MIL on her 73rd birthday
3584 Thankful that my husband fixed our water hose that was all kinked =I am not neat with them
3585 Thankful for our safety in our travels
3586 Thankful for what my husband said coming back "the poorest person may be the richest"
3587 That my husband said he is rich because he has GOD and me and our little doggies in his life
so blessed that he knows GOD is where the riches lay .......................
3288 The sun was beautiful today and with my day off makes this gal so happy .......
3289 Sunday ~~for this Beautiful warm sunny day !!!
3290 Thankful for coffee on the porch with my Husband
3291 Thankful for getting to finish planting the flowers we purchased
3292 Thankful for the sun as I need Vit D
3293 Thankful for water hose to cool off with
3294 Drinking water from the water hose ...
3295 Talking with some friends via text ...D and N. and Martha
3296 Thankful for my husband drilling holes in the bottom of some new pots
3297 Thankful for leftovers = no cooking for me today
3298 Thankful for some quit time no tv just reading
3299 Thankful that I am "drinking from the saucer because my cup is overflowed"
3300 That I have been blessed with another week to share the Thankfulness of
week 52
This week makes a year of multitudes and thankfulness I have been blessed with , this as truly changed the way I look at things , the simple things in life , wow what blessings they bring if we will just
stop and look each evening what has been given to us.
With these blessings and thankfulness that I have posted this year it just doesn't even scratch the surface of what GOD has given me daily, many I have overlooked in these fifty two weeks, GOD is so good to us
May you to be changed by gving thanks to our Lord and Saviour JESUS CHRIST !!!