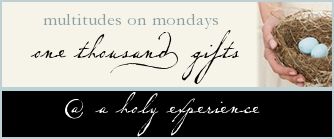 I AM THANKFUL FOR
3505 Monday ~~For this day !!!
3506 Bedside coffee ~~brought by my husband
3507 Reading about others smelling the sweet spirit of GOD
3508 Tuesday~~~for this day
3509 I got to see the beautiful sunrise this morning
3510 Safe travels to my work meetings and back
3511 Drive Thur for a quick lunch on the road
3512 Wednesday~~for this day !!
3513 That I was given 1440 minutes
3514 I am sorry blogger lost my Tuesday , Wed and Thursday post I am trying to remember
all the many blessings
3515 Early morning coffee on our front porch with my husband , Champ and lady
3516 Sitting on the deck enjoying the early sun listening to nature
3517 My day off
3518 Safety in our traveling for lunch today and that GODs hand was on us when
I wasn't paying attention
3519 Thursday ~~~For the gift of today !!!
3520 LC picking me up where I left my truck for some work
3521 T~~Taking me to get my truck
3522 Thankful for Mechanics
3523 For mowing the grass and weed eating ~~Love it ~~+ time well spent with GOD
3524 Reading in Joshua
3525 Friday~~~Another gift~~~this day !!
3526 Wonderful early morning sunrise with coffee on the porch
3527 Lunch with my sister
3528 Working outside ~~love, love love it
3529 Thankful for soap to get the dirt off my hands
3530 Doing a little cleaning in the bedroom ~~extra energy for this I am thankful
3531 Saturday ~~~ for this gift ~~~today !!
3532 Sleeping good in my bed that is so comfy
3533 Thankful for the sunshine after the rain
3534 Thankful for the car that gets me back and forth to work
3535 Thankful that My brother was safe from the storms that passed Thur Auxier today
3536 Sunday~~for this day ~~~
3537 Thankful for getting to sleep in a little
3538 That first cup of coffee brought by my husband = I am loved
3539 For my church family
3540 For the pastor's message on the Good Shepherd John 10
3541 Thankful that GOD knows my voice and I know his !!
3542 A day of Rest !!