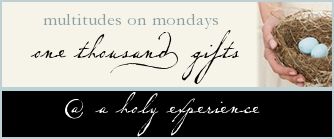 I AM THANKFUL FOR
3465 Monday ~~For this day !!!
3466 Lisa bringing us lunch
3467 Knowing that GOD will not leave me out in the wilderness, that GOD is my oasis as he makes living water in dry places.
3468 Cora and I out looking for lady slippers just wish I could hike those trails . Thanks to Cora for taking me
3469 Tuesday~~~for this day !!!
3470 Getting a new water heater (my husband wanted)
3471 Fixing dinner after work = I have food to eat
3472 The rain , cold day as it was still a day GOD created
3473 For the lady that stayed with me while I was a bit uneasy at work !
3474 Studying about Moses and Joshua ...Learning that we need to know that GOD is with us just as he was with Moses and Joshua ..
3475 Wednesday~~~for this day !!
3476 Stopping in the store to chat with some ladies from our bible study
3477 For what I call fuzzy throws on a cold night
3478 Thursday~~~for this day !!
3479 Early morning Coffee ~~tastes great after a cleaned pot last night
3480 Studying the Bible in my car this morning before work
3481 Fellowship dinner with my sisters in CHRIST
3482 Finishing our bible study tonight = I need to listen and follow the voice and GOD and lead others to the land GOD has promised us .
3483 Getting the house pressure washed
3484 Friday~~~ for this gift of today that is from GOD !!!!
3485 CW fixing us oatmeal for breakfast
3486 Saturday~~~for this day !!!
3487 Safe Travels to Ky and Wv
3488 Mikie and Amy their start of a new life together
3489 Meeting new people
3490 For the big family I have~~ that has Big love for each other
3491 Spending the night with my family in KY
3492 Sitting up late talking and just enjoying each others company
3493 Listening to the rain and thunderstorms
3494 The gifts that was given at today's reception
3495 Sunday ~~for this day !! Happy Mothers day to my Mother in Heaven !!
3496 For early coffee with family
3497 Going to Sunday school and church at my home church I grew up in
3498 Hearing my brother Jimmy pray a beautiful prayer this morning bought me to tears
3499 For the Mother God blessed me with and the years GOD lent her to me ~~how blessed with a GODly mother
3500 Today for the memories of my mother
3501 The message that was brought by Ken
3502 Nancy giving me flowers in my favorite colors ..
3503 For safety back to my home sweet home ..
3504 The sweet smell of the Holy Spirit that I smelled as I was praying ~~The sweetest smell I have ever smelled ........................I will have to blog about this ...........
Many blessings some I know that I have failed to write down as each day holds many that
I know I don't mention GOD is good and he is my all and all .............So blessed and Thankful
May you feel the his
PRESENCE
Glenna