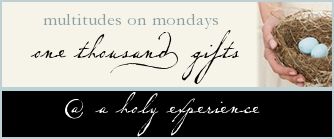 Giving Thanks to GOD this week for ..........
5489 Monday ~~For this day !!
5490 For the card from Greta with seeds for another purple flower so thoughtful of my
Cousin ...............Find JOY in even the smallest things !!!
5491 Much needed rain
5492 Tuesday ~~For this day !!
5493 Thankful for 1500 count sheets along with CJ
5494 GOD will supply the need of this county I am standing and believing in faith ..............
5495 For my sweet thoughtful niece Michelle in TX
5496 For reading some in the book of Esther
5497 Wednesday ~~For this day !!!
5498 A good nights rest
5499 A call from sissy saying her dads stone was set
5500 CW taking me to see the stone ~~~the picture above is like my brother
smiling when I went to see ....the sun could have been shining at any place but
it was right there above his stone.....as if to say I am happy ...
5501 CW driving me around and going to the park
5502 Thursday ~~For this day !!!
5503 I say this over and over but I am so thankful that CW makes me feel
like a queen to lay in bed and have coffee brought to me in bed
5504 That we were busy =thank you LORD for answered prayers
today while putting out flyer's ...
5505 Talking with Jimmy and we always ends his calls with "I love you sis"
and I say I love you too ...that's the way it always should be with family
5506 Friday ~~For this day !!
5507 Morning coffee on the porch with CW and champ and lady those dogs love my husband so
5508 the sunrise and its shining on me
5509 feeding my plants this morning
5510 Margaret's call about going to church with me Sunday night I pray she does
5511 Watering my flowers to find five white bird eggs instead of two in my ferns I just cant move them .......
5512 Thankful for the colors I see in my flowers what a great artist GOD is !!!
5513 For talking with Deb we love our animals and flowers ......
5514 Saturday ~~For this day !!!
5515 Reading more in the Book of Esther
5516 Sunday ~~For this day !!!
5517 For our church service and the people tie--ing knots and laying hands on a prayer
quilt I am sending to a friend
5518 For answered Prayers
5519 Margaret Going to church with me I know my brother must have been smiling down
from Heaven
I thought about now was the time to stop has I have reached the 5519 mark and 107 weeks
then I think how can I stop as the blessings of each day are many told and untold
so I must continue on in the simple style of mind giving PRAISE and THANKS to
my JESUS .............
Blessings to each one
Glenna