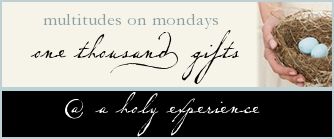 Giving Thanks to GOD this week for ..........
5465 Monday ~~For this day !!!
5466 For this day off
5467 For strength from GOD to paint our living room
5468 For my husband taking me to DQ for the birthday blizzard after working so hard
5469 For the beautiful scenery on our drive thru the park and back another way
5470 Tuesday ~~For this day !!!
5471 Getting off work early
5472 Shannon painting our kitchen and hall
5473 Wednesday ~~For this day !!!
5474 For a good nights rest
5475 For going to the Revival at White Rock tonight
5476 for 20 thankful things each night before my devotions
5477 Thursday ~~For this day !!!
5478 For cleaning our my car some
5479 For mowing, weed eating =my prayer time surrounded by the beauty
that GOD allows me to have
5480 Friday ~~for this day !!!
5481 Saturday ~~For this day !!!
5482 Cleaning cabinets and my husband helping
5483 For CW not passing out from low blood sugar
5484 For a nice day off
5485 Sunday ~~For this day !!!
5486 For early mornings
5487 For Church
5488 For CW visiting his mom on her 74th birthday