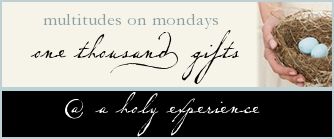 Giving Thanks to GOD this week for ..........
5411 Monday ~~For this day !!!
5412 For getting off early
5413 For my husband taking me out for dinner
5414 For the flowers I purchased
5415 For my evening devotional on this day there was a question when you think about heaven what picture comes to mind ? I asked my husband this after I did my answer and He blessed me with the words he used to describe his picture, I am so thankful that GOD used him to bless me
5416 Tuesday ~~For this day !!
5417 We got to sit outside and watch the sunrise and enjoy the early morning what our coffee
and Champion and Lady
5418 That I got to mow grass , as its my time with GOD and I can sing loud and just GOD can hear me
5419 Wednesday ~~for this day!!
5420 For porch sitting watching the sun come up this morning
5421 Bought more flowers :>) and got them planted
5422 My evening devotional
5423 Thursday ~~For this day !!
5424 Another morning on the porch another sunrise to see, another morning to watch the birds
another morning to see the beauties that GOD allows us to see and have
5425 For a evening to work in the yard enjoying again GODs creation, its my time to pray and praise
GOD ~~Love this time
5426 For my neighbor compliments on my yard and telling me to get a cutting off her rose
5427 For getting must of my yard mulched
5428 For the simple life and loving the simple things , porch sitting, bird watching , flower planting
dirt digging, mowing, weed eating,
5429 For laughs over my home made soap = laughter is good ..........
5430
Friday~~For this day !!! and all the blessings from sun up to sundown
how blessed I am
5431 Saturday ~~For this day !!!
5432 For sleeping in and having the day off
5433 For Coffee on the porch and to sit longer and enjoy it
5434 For having the energy to clean and prep for painting
5435 For my husband taking me to lunch-dinner combo
5436 For time at the park to enjoy this evening
5437 Sunday ~~For this day !!!
5438 For our church service this morning and the preachers words on the Holy Spirit and
how we are to Witness .....
5439 For the songs that give praise to our Saviour !!
5440 For my sister and I going to the park with our food to enjoy the scenery
Thanks be to GOD for the many, many blessings this week and I give him all PRAISE
for everything how blessed to have him call me his child ............................