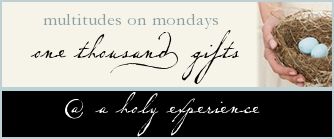 Giving Thanks to GOD this week for ..............
3946 Monday ~~~ for this wonderful day to start fresh !!!
3947 For this poem I found
I am thankful for everything I have experienced
In this life of mine
For in all I have found
That in His Word-the answers I find
I am thankful for all the tears I have cried
For they have taught me to appreciate laughter
They have given me the ability to see the
The joy that comes after
Through my tears I have come to know
His Holy Spirit in my life
How He is always there
And comforts through the strife
I am thankful for the storms I have encountered
Knowing that the rainbow is at the end
Realization that they are only temporal
That with time all will mend
I have learned that I don't need to be strong
For GOD supplies the strength for me
He shoulders my burdens
Regardless of what the circumstance may be
I am thankful for all the relationships
For the good and yes, for the bad
For they have given life to my emotions
An appreciation of what I have had
My most valuable relationship
Is that with Yahweh, my Father
I know that I can trust Him
As I can trust no other
I am thankful for the pain I have known
It has given a compassion for the suffering
An ability to reach out to others
An appreciation of little things
I understand the greatness of GOD's love
And the pain He has suffered for me
How He endured all things
So that I could be set free
I am thankful for the hunger and thirst
That I have had to go through
I appreciate having food before me
And sharing it with others too
He has given himself as my food and drink
To make sure that I was fed
His Blood shed for my drink
And His Body broken for my bread
Most of all, I am thankful for His Grace
For the provisions that it brings
How it has provided for
Me in all things
3948 For Amon having concern for Lc and coming by to see how things were going =A caring person
3949 Laughter watching kids at a beauty pageant
3950 Tuesday ~~for this day !!!
3951 For the wonderful time at the park as it was beautiful at lunchtime
3952 Another evening of watering flowers and pruning them while having my time with GOD
surrounded by his beauty
3953 Wednesday ~~~For this beautiful day !!!
3954 Coffee brought to my bedside
3955 Crock pots = I have supper ready when I get home
3956 The picture below says what a beautiful sky I saw on my way to work , as though GOD is saying you are under my wings ..I thought of this scripture when I saw this ...........Psalms 91 (its a favorite of mine )
1 He that dwelleth in the secret place of the Most High
shall abide under the shadow of the Almighty.
2 I will say of the LORD,
He is my refuge and my fortress:
my God; in him will I trust.
3 Surely he shall deliver thee from the snare of the fowler,
and from the noisome pestilence.
4 He shall cover thee with his feathers,
and under his wings shalt thou trust:
his truth shall be thy shield and buckler
3957 Thursday ~~for this day !!!
3958 Going to my sisters with LC and having dinner with her
3959 Going out to take some late evening pictures around our yard
3960 Thankful that GOD knows what I need and will open those doors for me !!
3961 Friday ~~For this day !! thank you Lord for waking me this morning
3962 For running home to make some home made biscuits for us
3963 For my husband and I going out to Sonic
3964 American Standard replacing parts at no cost
3965 Saturday ~~For this day !!
3966 That I have a three day weekend
3967 That when I want to cry and threw in the towel so to speak ..........GOD is there for me
3968 When everything goes wrong .......GOD is there right beside of me
3969 Texting LC about the lemons in life
3970 Sunday ~~For this day !!!
3971 Going to New Haven tonight
3972 The pastor telling about witnessing to a fair worker ...this sure did touch my heart
3973 Watering flowers and feeding my hummingbirds
3974 Daily ..Forgiveness
God I just come before you now thanking you for the many gifts and blessings you have allowed
me~~~I sure do thank you Lord !!!
Praise GOD for all he has done and is doing in my life
may you feel his love each day
Glenna