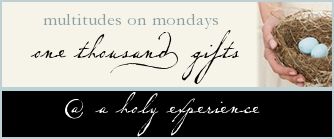 Giving Thanks to GOD this week for ..............
3825 Monday ~~for this day !!!
3826 That we can sit on the porch this AM
3827 For Knowing Betty and the Christian life see lived
3828 For talking to GOD knowing he understands when I don't have a clue as to WHY
3829 Getting laundry folded =I have clothes to fold and they are clean
3830 For Tylenol
3831 Tuesday ~~For this day !!!
3832 Not having the headache this morning
3833 Safe travels today
3834 Long talks with my husband
3835 Late porch sitting listening to nature
3836 That CW's knee is feeling better
3837 Wednesday ~~for this day !!!
3838 Hummingbirds and fixing them fresh food
3839 Chucks knee is feeling better
3840 For the invitation to dinner of Fresh Green beans, corn , and it was yummy
3841 Porch sitting with my sister and then later to porch sit with my husband
3842 Thursday ~~for this day !!!
3843 Up to be outside to watch the sunrise
3844 Chuck getting the breaks fixed
3845 Having Kim a little birthday get together after work
3846 For kids....Jayden dancing ......so cute and sweet
3847 Friday ~~For this day !!!
3848 Saturday ~~for this day !!!
3849 Being off these next three days
3850 Being with my husband on his birthday
3851 Safe travels this day
3852 Sunday ~~for this day !!
3853 Meeting to worship with our church family
3854 Fresh green beans
3855 Naps = a day to be lazy