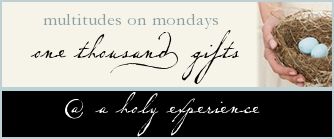 Trying to count the multitude of blessings is like standing on the shore trying to count each grain of sand
Endless........................................
Giving thanks To GOD this week for .................
6525 Monday ~~For this day !!! That GOD has blessed with a new week , for salads,
for windows~~ big windows~~ to let the sunshine in .for the simple things in life as they are truly the
richest things ...
6526 Tuesday ~~For this day !!! For life , for others posting on face book that they are going to start recording their thankfulness, today for those big windows to see the rain and the clouds that makes me appreciate the sunshine more .....................
6527 Wednesday ~~For this day !!! for the words " I love you more" for a pharmacy that offers a less
expensive Rx cost , for the little yellow flowers that warmed my heart today knowing that spring time is near,
6528 Thursday ~~For this day !!! for life, for love, for coffee brought to my bedside each morning by a loving husband , for looking out our bedroom window and seeing the birds eating, thinking how GOD cares for these little creatures he made and how much more he loves me ..........
for the same little yellow flowers from yesterday except they are now in the snow ,
6529 Friday ~~For this day March 1st !!! for Lamentations 3:22-23
New American Standard Bible (NASB)
22 The Lord's loving kindnesses [a]indeed never cease,
For His compassion's never fail.
23 They are new every morning;
Great is Your faithfulness !!!
For my two brothers that shared a birthday today one is in heaven Praising GOD the other is on earth
Praising GOD I am so blessed to have six brothers each hold a special place in my heart ~~love of Family ~~For the parents I had that showed us love,looking back now I am sure they did without a lot of things that might would have liked to had but they choose to give to us ..we never went without ~~How blessed I am to call them my Dad and Mother !!!
For the 1st day of March its been cloudy , snowing , melting, Sunshine, Having some extra time at home this morning leaving chili to cook on this cold day .
6530 Saturday ~~For this day !!! March the 2nd
our neck of the woods is beautiful , covered with a blanket of snow
I am thankful for these flowers knowing the a covered again this morning with Gods blanket
they will spring back up ......
The beatuy of the snow in the trees thank you Lord !!!
6531 Sunday ~~For this day !!! for the wake up from GOD and for the song that was brought to my mind by someone the name is did I mention that I love him !!!
(I am posting the link to this song as I would like for you to listen to the words and hope
it blesses you as it did me )
Oh Did I mention this week that I LOVE the LORD way down deep in this soul of mine
Knowing that Heaven is REAL !!!!
Thank you LORD for loving me .............on days I am unloveable .....