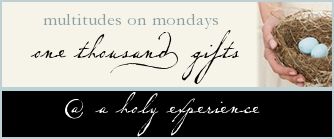 Trying to count the multitude of blessings is like standing on the shore trying to count each grain of sand
Endless........................................
Giving thanks To GOD this week for .................
6532 Monday ~~For this day !!! for the freshness's of the week , nightly devotionals
for GOD's amazing Grace , love and Mercies as the bible says his mercies are new each morning !!!
6533 Tuesday ~~For this day !!! to be woke by the sweet little birds singing ...singing in the rain,
thankful that I have feeders for them as I watch they sing and eat in the cold rain ....for the day off,
Boony hats and umbrellas, that Gaye and T is better today !! for quiet time to read the bible and pray
6534 Wednesday ~~For this day !!! For snow not being as much as they were giving for us , the road being clear, for slow cookers , my bible , for the books brought to me of the Summitt.
6535 Thursday ~~For this day !!! for the wake up this morning , the nights rest , shelter ,
a early day off, laundry to do means I have clothes, for the sweet little doggy that is in love with our lady dog
he waits patiently at the door for her to come back outside to play ,
6536 Friday ~~For this day !! life, breath, sunshine , ................
6357 Saturday ~~For this day !!! for the strength to spring clean the living room and kitchen and regular clean other rooms .thank you Lord for the smell of clean .....for the sunshine , for laundry mats close to wash rugs, .my time for prayer and reading the bible ...praying as I worked today
6358 Sunday ~~For this day !!! for the most beautiful sunrise I (pictured above) saw this morning coming though our living room door ....for my walk this afternoon, listening to neighborhood children play, for map my walk app., for listening to Podcast by Joyce Meyers, for raking up some more leaves, this beautiful sunny day of warmth and wind.
Thank you Lord for this week your blessings have been beyond telling, for every breath, I just want to say thanks a Zillion times over for every blessings and for the touch of your healing hand on my knee and I know with each step I take you are touching me ..........................