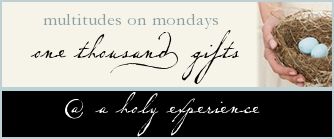 Giving Thanks to GOD this week for .... trying to count the
Endless Blessings from GOD ...............................
6075 Monday~~for this day !! for waking up from a nice nights rest, to feel the freshness of a warm shower. to hear the rain. to feel the cold 44 degrees for the color God paints the trees in the fall.
6076 Learning more with each nights bible study about Saul, Jonathan and David
6077 Tuesday ~~For this day !!! Another morning to start fresh , trying to be a better witness, for the many many blessings of this day
6078 Wednesday ~~For this day !!! for the air I breath, my husband bringing that morning coffee , my husband having dinner fixed when I got home ...many blessings of gifts though each day
6079 Thursday ~~For this day !!! For the comfy warm bed, the shelter,
the love of my husband ,
6080 Thankful to have got our washer fixed , also safety in traveling getting the sound blanket for the washer on lunch
6081 For our ladies bible study class tonight , the sharing of joys and tears
6082 For Margaret F. kindness of saying I am praying for you
6083 For all the ones that are lifting me up in prayer for Monday and getting good results
6084 Friday ~~For this day !! the wake up from my saviour , the love,
6085 For Cors praying about a situation and waiting on the Lord for a answer
6086 For doing bible study in the car on lunch
6087 For the little nose and eyes looking at me as my husband as the door
cracked waiting on me to come in .... a husband and a doggy waiting at the door that loves me so ...............
6088 Saturday ~~For this day !!! for waking up to a husband that say lay there I will bring your coffee just as soon as it is finished
6089 For the smell of my husbands cologne ..
6090 For Sunshine and warmed today near 70
6091 Lisa buying my favorite Salad !!!
6092 Sunday ~~For this day !!!
6093 Beth driving to our meeting and safety in our travels
6094 That I know GOD is the GOD that will supply my needs that he is bigger
than work problems ...........