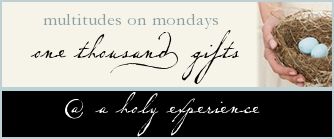 Giving Thanks to GOD this week for .... trying to count the
Endless Blessings from GOD ...............................
6095 Monday ~~For this day !!!
6096 For sunshine as I travel to Knoxville to have a stress and echo test
6097 Staying on the treadmill for the time needed to get my heart rate up
Thankful for prayer warriors praying for me and Thank GOD for the calm
peaceful feeling ....
6098 Tamsey going with me for the test
6099 Cracker Barrel Grilled Chicken and green beans
6100 Tuesday ~~For this day !!! for waking up early and getting to have
coffee this morning my husband bringing it to me as I lay in bed
6102 Thankful for doing some bible study on my lunch break
6103 Wednesday ~~For this day !!! waking up refreshed , thankful to GOD for
another morning
6104 For knowing GOD is in control and all things will work out
just right ..............just what I need he will supply
6105 Thursday ~~For this day !!! a great nights rest , to wake to the smell of my husbands aftershave as he step to my side of the bed with my morning coffee
6106 Getting refreshments for bible study tonight ...
6107 Friday ~~For this day !!! having this day off
6108 Safety in traveling to lunch with my husband and do some shopping
6109 Saturday ~~For this day!!!
6110 Knowing that GOD will supply the need
6111 Sunday ~~For this day !!
6112 For church in the am and pm ....worship and praise
Thank you Lord for your blessings on me !!!