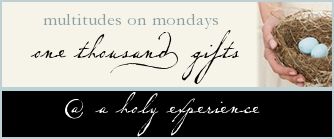 Giving Thanks to GOD this week for .....Endless Blessings
For those told and those that I failed to mention or give thanks for
May I always be thankful as GOD so loves our Praise and
Thanksgiving
6037 Monday ~~For this day !! that I didn't forget to thank the one who woke me this morning ~~Thank you Lord~~!!
6038 For my husband's horrible rash looking so much better with each day
Thank you Lord for hearing our prayers and answering them PRAISE GOD !!!
6039 For this cool morning 40 degrees when I woke to cold to porch sit but
I still enjoyed the morning in Bed with my hot coffee.
Thankful that these cool morning may cool my hot flashes (aka Power Surges)
6040 Thankful that each day brings my husbands skin looking better, I am so so thankful for this
6041 Thankful as I enter our home I am greeted by my husband with a hug and how was your day, also my favorite candle was burning making our home smell so warm and cozy
6042 Tuesday ~~For this day !!! Another cool morning that I am blessed with as my husband brings my coffee to bed, also I say refill and he brings another what a queen I feel like of the mornings
6043 Flowers still blooming had to stop and cut some to share the GOD given beauty
6044 Thankful to get the grass mowed
6045 Thankful to finish this weeks bible study lesson(Saul was some kind of Jealous man)
6046 Wednesday ~~For this day !!!Thank you Lord for waking me this morning , for the warm 61 degrees so that I could go out and sit on the porch while its still dark be alone with you while listening to nature ....reminds of the song this is my fathers world .......Oh may I never forget ....
the blessings that continued though this day ....
6047 Thursday ~~For this day !!! Thank you Lord for your blessings of this day
6048 Answered Prayers for Chuck's healing he is looking so much better the rash is going more away with each day !!
6049 Our ladies bible study that we can come together and make a joyful noise and that we did with all kinds of instrument's , bells, piano, guitar, blocks, cymbals, sticks,
also that we can share the goodness of GOD and how he is mowing in each of our life's as we
study about Saul his Jealousy of David, and how Saul's son Johnathan loved David .. Dr. Cathy
brought each of us a Rose from her rose garden (I planted mine this morning praying it takes root)
the beauty of this rose is stunning
6050 Thankful for the afternoon off to do some garage cleaning,, a little house cleaning ,
doing my bible study outside on the deck (I must say Saul was sure mean)
6051 Saturday ~~For this day !!! for the beauty of the early morning outside on the
porch thank you Lord for 62 degrees that I can sit early out and listen to your world and
thank you and give you praise this morning , for the little hummer that perched on my trellis
for a few minutes those little birds amaze me ....... for the sunshine the whole day , for love of family ....
6052 Sunday ~~For this day !!!
6053 For sleeping in longer this morning also that Chuck is resting better thru the night
6054 For worship at our church , our church family, for the speaker from the childerns home
thankful for people that take care of childern....love them , care for them ,
6055 For giving my hummers their power food for their long journery sometime this month. watering my flowers, sharing flowers with others.
Thank you Lord for your blessings on me ...................................endless.....................