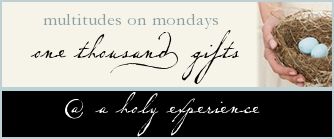 Giving Thanks to GOD this week for .... trying to count the
Endless Blessings from GOD ...............................
6056 Monday ~~For this day !! Hearing the rain, smelling the coffee,
tasting the coffee bought to my bedside by my husband. for my job
blessed from the beginning to the end also studying the bible study
about David , Learning more about the bible that GOD spoke through
this days lesson ...........thank you Lord ....I must stand still and wait upon you
Lord ....
6057 Tuesday ~~For this day !!! that I am blessed with this day
to enjoy
6058 Lisa made us lunch and homemade bread
6059 Studying another night about Saul and David , blessed with this day
6060 Wednesday ~~for this day !!! Thank you Lord for the sunshine, the beauty of this day and each minute given to me
6061 For Dr.s to help us ~~God given Knowledge
6062 For the girl I had been burdened about from yesterday GOD "put her in my path " again today . Thank you Lord for putting her in my path today as I invited her to church asked if she needed anything ..
6063 For having somewhere to call home ...all the needed items Lord you have sure blessed this gal with supplying her needs ......how blessed I am not only this day but each and every day ..
6064 For my neighbors message there was a bear in our trees ...thoughtful and kind neighbors
6065 Thursday ~~For this day !!! the Sun shining so beautiful this morning , the dew on the roses
I think of as being a Dew Kiss from GOD
6066 Getting off work early such a beautiful day that I enjoyed out on the deck
6067 Our Ladies Bible study , the prayers, the request spoken and unspoken
6068 Friday ~~For this day !!! waking up early to coffee brought to my bed side by
my husband
6069 For the day off also enjoying dancing with my husband we are so funny
6070 For 80 degrees and sitting out in the sun getting some natural Vit. D. doing some of our bible study lesson out on the deck
6071 Fed Ex picked up the unexplainable boxes..
6072 Medical Supply dropped of my pulse Oximeter to use to night , also that I did go to sleep with it on my finger , on Saturday finding out my husband laid there watching the numbers to see
how I dd Thur the night =Love
6073 Saturday ~~For this day !!! Sleeping though the night with the pulse oxygen machine
the cool crisp of this day much cooler than yesterday still thankful for the day and the many blessing's of ~~cleaning house=I have a house to clean, Doing laundry =I have clothes,
Fixing a bagel= I have food to eat, raining =I have shelter , Cool weather=I have heat
Hug and Kisses=I am loved each morning by the one who lays awake watching me of the night
just to see if I am breathing right === Blessed beyond measure ....Wonderful Saviour that cares for me his child and forgives me daily of my many sins.
6074 Sunday ~~For this day !!! Hearing the rain , seeing the day clear up ,
blessed to have enjoyed this day and week . Studying the Word of GOD
still studying about Saul , I must remember that I must put on the whole armor
of GOD each day. Thankful for three and half days off .
Thank you LORD for this past week and each blessing Monday to Sunday
for the Love , the Forgiveness, for knowing that you will take care of
it all ...............................Amen .....