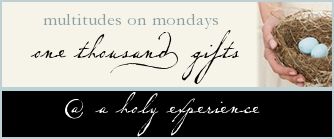 Giving Thanks to GOD this week for ..........
5719 Monday ~~For this day !!
5720 Morning porch sitting , thankful that GOD has made a beautiful
world for each of us to enjoy
5721 Text messages that keep us informed about Lisa's dad
5722 Thankful to get to mow grass as it is my prayer time nothing better
thank time spent with GOD ..........
5723 Tuesday ~~For this day !!!
5724 Watching the little birds take their first flight .....amazing ...the GOD of all creation ~~
5725 Leaving work early for a lunch/dinner combo with my husband and safety in our drive to Cracker Barrel
5726 Thankful to be able to buy groceries
5727 Thankful for Prayer Warriors that are praying for a Miracle
5728 Wednesday ~~For this day !!
5729 Thankful to get in and out of the doctors office quickly this morning
5730 Thankful for LC's faith
5731 Thursday ~~For this day !!!
5732 For a day off for me and my husband to be together
5733 Shopping today in Ktown having lunch/ dinner combo at Cheddars
also safety in our travels
5734 LC calling me to give me updates
5735 Friday ~~For this day !!!
5736 A busy day at work
5737 Laying relaxing in the lounger late enjoying those first drops of rain hitting me
5738 Saturday ~~for this day !!
5739 Staying busy at work
5740 That Tamsey went and got change that I needed for work
5741 For a another evening to enjoy on the deck ...thank you Lord for this beauty I enjoy
5742 Sunday ~~For this day !!!
5743 Coffee on the porch and breakfast Bagel on the deck , staying out in the sun for a little while ...Blessings.........
5744 PRAISE GOD Lisa's Dad came off the Vent=answered prayers
Simple me with a simple life enjoying day to day blessings thankful for each day
GOD allows this country gal .....................