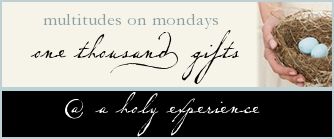 Giving Thanks to GOD this week for ..........
5637 Monday ~~For this day !!!
5638 For a status I saw on facebook .. you should have so much Jesus in you that when a mosquito bites you ...he flies away ...singing there in power in the blood of Jesus ......
5639 Tuesday ~~For this day !!
5640 Thankful for a cool evening not so humid
5641 Thankful that I can give the humming birds fresh food
5642 Wednesday ~~For this day !!
5643 That I folded a few loads of clothes before work
5644 Another cooler not so humid day
5645 That our conference call this morning wasnt as bad as what we
had thought .....
5646 Thankful for being close to the park to go enjoy the beauty and have a little picnic
5647 Thursday ~~For this day !!
5648 A early morning walk before 7 am
5649 Coffee on the porch after my walk
5650 Safe travels to the Set, as we eat dinner and do some
grocery shopping.
5651 Friday ~~For this day !!
5652 Walking again this morning
5653 For clean clothes and fresh smelling sheets
5654 For laughs with my husband watching Madeia !!
5655 For the strenght for this day as I am truly blessed
5656 For shelter from the heat it reached 107 on my porch today
5657 Saturday ~~For this day !
5658 For this three day weekend which started yesteday
5659 Another early walk
5660 Finishing up spring cleaning
5661 Sunday ~~~For this day !!
5662 For a early morning walk
5663 sitting outside in my lounger
5664 For another day of AC in this heat
5665 For a picture that says BLESSINGS
Thank you LORD for a week of blessings on me