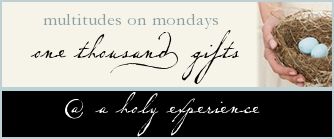 Giving Thanks to GOD this week for ..........
5666 Monday ~~For this day !
5667 Porch sitting early AM watching the sunrise enjoying nature with the nice breeze thank you LORD for this beautiful morning
5668 Tuesday ~~For this day !!!
5669 For much needed rain
5670 Wednesday ~~For this day !!
5671 For a day off with pay
5672 For Freedoms that I enjoy each day
5673 For my outside time of bible reading
5674 For My husband and I spending the day together
5675 For a thank you this was a great meal ...
5676 Thursday ~~For this day !!!
5677 For early morning porch sitting watching nature that I so love
5678 For rain starting now ....
5679 For a night to enjoy open doors and windows seeing the wind blow in ...ahhhh refreshing ..
5680 Friday ~~For this day !!!
5681 A beautiful morning to enjoy the porch sitting early ....thank you Lord for waking me this day and each day
5682 Thankful for a early day to come home and enjoy
5683 For dinner with my husband
5684 Saturday ~~For this day !!
5685 For walking early before 7 am = my time for prayer and talking to the Lord on my walk
5686 The new little birds grwoing daily thankful for the ferns that hold their nest safe and secure
5687 For popcicles and Sundried Tomato Turkey Sandwhich
5688 For my devontional each night
5689 Sunday ~~For this day !!!
5690 Thank you JESUS for the wake up this morning
5691 Worship service this am
5692 Lisa bringing me lunch to work =how blessed I am with a thoughful co worker
5693 For 39 years of knowing Ken and Kay and thier leadership in my Christian walk from a young age until I moved in 1989 still consdier them my Church family from my home town ..................
5694 Sitting outisde this evening enjoy the cool breeze and watching the clouds move ...Oh how wonderful is my Saviour ...
Thank you Lord for all these blessings