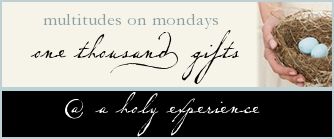 Giving Thanks to GOD this week for ..........
5695 Monday~~For this day !!!
5696 The cool foggy morning to porch sit with coffee
5697 Tuesday ~~for this day !!!
5698 For rain ....thank you Lord
5699 For porch sitting to do my nightly devotional
5700 Wednesday ~~for this day !!!
5701 A cool early morning to porch sit how blessed I am with summer mornings such as these
5702 Having a half day off doing nothing but enjoying the deck and reading the bible and listening to Joyce Myers Podcast
5703 Thursday ~~For this day !!!
5704 Thankful for this morning that its cool and raining = answered prayer for much needed
rain .....
5705 Thankful for answered prayers for my co workers dad ............A kidney
5706 Friday ~~For this day !!!
5707 Thankful that GOD allowed me to enjoy the beauty of this day
5708 Deck sit on the evening enjoying talking with my husband
5709 My devotional outside ....
5710 Thankful that Lisa's dad is having his new kidney this night
5711 Saturday ~~For this day !
5712 A day off to clean, laundry , cook = I am blessed with a home, clothes, food
5713 Open doors and windows while it rain ....
5714 Thankful that Lisa's dad made it Thur surgery
5715 Sunday ~~For this day !!1
5716 Church
5717 Thankful for prayer warriors for the Lisa's dad
5718 Thankful that Beths husband came to help with the store today !!