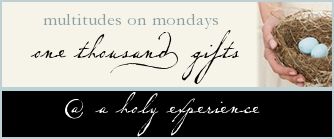 Giving Thanks to GOD this week for ..........
5372 Monday ~~For this day !!!
5373 Thankful that our aae bought us lunch
5374 Thankful for role play which helps me to learn
5375 Thankful for this beautiful day that I got to mow a little grass and trim some butterfly
bushes tonight after work ...Thank you Lord for allowing me this yard in which to take care of
5376 Tuesday ~~~For this day !!! the first day of spring !!!
5377 For the first morning of coffee on the porch with my husband
5378 That I got to do some trimming of the landscaping
5379 Thankful for our safe trip to home depot and to Cheddar's for lunch
5380 Thankful for a brothers birthday that he is now celebrating in heaven for the second year
knowing he is free to run, dance , laugh that big belly laugh ....
5381 Wednesday ~~For this day !!! and all the many blessings it has contained
5382 That I was up and outside me and my husband before dawn love porch sitting
early in the morning
5383 The birds sang so beautiful this morning
5384 Thursday~~For this day !!
5385 That the seeds I planted have are coming up
5386 Friday ~~For this day !!!
5387 For the extra cup of coffee brought to my bedside
5388 For the wonderful lunch Lisa shared with me
5389 Saturday ~~For this day !!!
5390 That even on my day off my husband still brings coffee to my bedside ~~how blessed and thankful to call him husband
5391 That I have had the day off to clean and take many breaks
5392 That during my cleaning I know GOD hears my prayers and I know he is blessing me as I pray them
5393 Sunday ~~For this day !!
5394 Thankful for our church service this morning and all my church family
5395 For warm fuzzy throws and a afternoon nap
Count your blessings see what GOD has done
Glenna