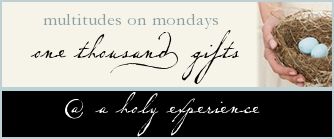 Giving Thanks to GOD this week for ..........
5345 Monday ~~for this day !!!
5346 Thankful for a snooze button for a few extra mins
5347 For the home town papers my brother sent me
5348 That GOD is so forgiving of me
5349 Tuesday ~~For this day !!
5350 For this beautiful spring day before spring Love it !!!
5351 For going to the park for lunch soaking in the beauty that GOD allows me to enjoy !!
5352 For my sweet doggie as I type he is pushing on me to play with him
5353 Wednesday ~~For this day !!!
5354 Thankful for my day off
5355 Thankful for the 80 degrees , raking leaves and getting to mow grass
5356 Thankful for a afternoon to have lunch/dinner combo with my husband
5357 Thankful for GOD who forgiver's me , as I haven't been a good example of a
CHRISTian being mad, mean and just ugly with tonight has I read my devotional it says
at what do you need to ask GOD for forgiveness ...sure was a perfect devotional for me on this day
5358 Thursday ~~For this day !!!
5359 Waking up early to a dog that knows a storm is near and he wants to be cuddled
5360 For talking with my husband for several hours before we had to get out of bed
5361 For living near a park that we can go after work grill some hot dogs and enjoy watching
kids, the laughter , the beauty , the taste of food outdoors
5362 For a talk with my sister and sister in law today
5363 Friday ~~For this day !!!
5364 Thankful when I say refill my husband brings another cup of coffee to me in bed
5365 Thankful that Janice looks so happy
5366 Thankful for a old friend finding me on face book
5367 Saturday ~~For this day ~~!!!
and all the many blessings this day contained
5368 Sunday ~~For this day !!!
5369 The pastors sermon on thankfulness
5370 that work went by fast
5371 For crock pots = dinner is ready when I came home