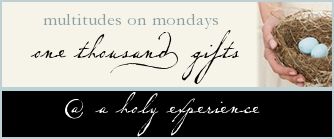 Giving Thanks to GOD this week for ..............
4473 Monday ~~For this day !!!
4474 For my sisters birthday
4475 Tuesday~~~For this day !!!
4476 Coffee to wake me up
4477 That our window got put back in
4478 That my husband had safety in his travels today
4479 Wednesday ~~For this day as with each it is a gift and I am thankful for this gift !!!
4480 Thankful that the creator of the all LOVES ME!!
4481 Thankful for Tim Tebow and how he is a witness to all ~~we are to be bold !!
4482 Thankful for the warm and sunny day to open our doors at work
4483 Thursday ~~For this day !!!
4484 A day off
4485 A good christian dentist and my dental hygienist is so nice too as she makes my
teeth feel all nice and clean
4486 Our payday and some extra thankful for all things about my job
4487 That when people don't tell the truth I know that GOD knows all
4488 Friday ~~for this day !!!
4489 For hot coffee brought to my bedside and it helped my throat so much
4490 For a answer to prayers that GOD didn't allow someone to take us over
4491 For the Dr. calling in Meds for this whatever I have .....
4492 For my husband calling saying I have made you potato soup thought it might make you
feel better ~~A thoughtful husband when I feel just yucky !
4492 For Tylenol and blankets for chills
4493 Saturday ~~For this day !!!
4494 That I made it Thur work today that GOD gave me the needed strength
4495 Hot showers that make you feel some better
4496 Sunday ~~For this day !!!
4497 A day to rest ...warm bed.. hot coffee ...a much needed short nap
4498 Thankful that we have preachers on TV that when we are under the weather
we can listen to them ....