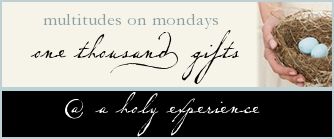 Giving Thanks to GOD this week for ..............
4444 Monday ~~For this day !!!
4445 That GOD forgiven me on a daily basis ....some days I am so mean and unlovable
but GOD is right there to forgive me
4446 To sit and watch the Christmas lights as this is a time for me to reflect and enjoy
4447 Tuesday ~~For this day !!!
4448 For the peace that GOD gives to me
4449 Chuck bringing us a snack of cheese puffs to enjoy as we watched TV
4450 Wednesday ~~for this day !!!
4451 For heating pads at work
4452 Thankful that I know GOD and I am his child
4453 Thursday ~~For this day !!!
4454 That GOD will fight our battles for us as we stand for him
4455 That no one was hurt this morning when a deer came Thur our work glass
GOD thank you so much for protecting us
4456 Thankful for the guys that came to work on the building quickly
4457 Friday ~~For this day !!!
4458 For this early morning being out before dawn and seeing my neighbors lights
4459 Thankful to give free breakfast to a few from the company I work for
4460 That LC brought us breakfast to our work
4461 Thankful my nephew was given the job he had wanted
4462 Saturday ~~for this day !!!
4463 For safe travels to be with my family in another state for our CHRISTmas
get together
4464 Thankful for the perfect weather sunny but cold for our family that was traveling
4465 Thankful for hugs and kisses from family
4466 Thankful for so much laughter with Tom and Earlene
4467 Thankful for a wonderful day .....you blessings on me are so numerous
4468 Sunday ~~For this day !!!
4469 Coffee with family this morning after a wonderful nights rest
4470 For GOD being my protector from something that I didn't even know until
I got home PRAISE GOD ....
4471 Thankful that for everyone that tried to what I think come against me that GOD
moved me in a direction not to go that way ..............thank you that you call me your child
and I have a FATHER WHO CAN .............................
4472 Safe travels back home today
GOD your love for me is so amazing and endless....................................................
Blessings to each one !!!
Glenna