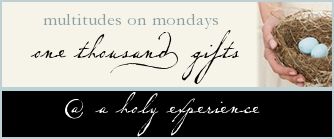 Giving Thanks to GOD this week for ..............
4415 Monday ~~For this day !!!
4416 Finding the beads I needed to finish my tree
4417 For bathrooms !!!!!
4418 Getting most of our tree decorated
4419 Thankful for the lights on the tree reminding me that CHRIST is the true light of the world
4420 Tuesday ~~For this day !!!
4421 For a free pumpkin spice latte
4422 For Lisa still letting me have the heater and all the work she does when I should be the one doing it ....
4423 For my reading this morning in the advent daily devotional
4424 Wednesday ~~for this day !!
4425 For the reading in my devotional
4426 Tamsey bringing us soup and Lisa' bringing chicken
4427 Payday!!!
4428 Thursday ~~For this day !!
4429 A day off to do a little shopping
4430 My devotional about change
4431 Thankful that I know GOD will take care of L and Me!!! he knows the path and
whats best for us ....I must trust GOD fully in this .....
4432 Praying as I drove ..........................
4433 Friday ~~For this day !!!
4434 For treating people to breakfast for the company that I work for allowed us
4435 Thankful to talk to a young man that needed a job and that I could witness to him
4436 That we have heat at work !!!
4437 Saturday ~~for this day !!!
4438 That the sun is shinning and its gonna be in the 60's
4439 That our church has a float in the parade today
4440 Kids laughing and having such fun at the parade !!
4441 Sunday ~~For this day
4442 The message about Christ is it truth or a myth ????
We Christians know its true as the joy Christ brings to me and I am blessed to know that one day My feet will step into the city of Heaven !!!Thank you Lord ...you are a awesome GOD !!
4443 For this day of rest !!!
Blessings to all
Glenna