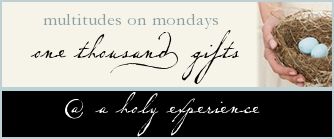 Giving Thanks to GOD this week for ..............
4315 Monday ~~for this day !!!
4316 For the Godly mother I had and that today is her birthday I know she is celebrating in heaven with another child Buggs ..I can see her my Dad, David, Buggs, Kim, Bill David, Vanessa other family gathering to sing as my mother loved to sing ~~I can hear her singing the song I am building a bridge she loved to she has she did her housework ...............
43
17 Thankful to GOD that he allows us to retain memories and we cam reflect on them at any time
today I have sure reflected on those years with my mother ....................They are like GOLD stored in a
memory vault and I cherish each one of the few years I had with her .......nothing like a precious loving mother ......
4318 Tuesday ~~for this day !!
4319 For the warm beautiful day on Nov 8
4320 Wednesday ~~For this Day !!!
4321 For the wind blowing as I stepped outside on my way to work
4322 That I can make up songs and sing praises to GOD on my way to work
The maker of the wind , Thank you Lord for your blessings on me this morning
4323 For a Talk with a customer about the LORD
4324 For Starting WW today trying to loose much needed weight
4325 For Drs that are specialist
4326 Thursday ~~~For this day !!!
4327 For our ladies bible study and to those that have been faithful and for those haven't been able to come for whatever reason
4328 For hot water to warm cold hands
4329 Friday ~~for this day !!!!
4330 for this beautiful morning that I went to the park to feed the birds and ducks with old bread
4331 Saturday ~~For this day !!!
4332 Thankful for my three day weekend and the beautiful day it was warm , sunny
4333 For My husband and I time out to dinner and laughter of his dream
4334 A call from my cousin and her son
4335 For my sister Gaye's birthday = GOD gave her to me as not only my sister but my friend whom I know what I say stays with her !!! what a blessing she is to me ...so much like my mother
her and Buggs were the ones with my mothers humble personality ....
4336 Sunday ~~for this day !!!
4337 For my church family
4338 For the children laying hands on the shoe box's for operation Christmas Child as we prayed for all the children that would be receiving the boxes
4339 For the pastors message about GOD is the Audience, when we sing don't worry about what our neighbor thanks of our singing its GOD we are singing too ...This hit me right in the face when he say this ...Thankful to know that I need to seek to please GOD
4340 For Tamsey and I going to the cemetery for me to take the flowers I had got for Buggs
4341 For another beautiful day and that I still have a few things blooming which is most unusual this time of year here ...Thank you GOD as you know how much I love the blooms and a day to work in my yard ...
Thank you Lord for this week of blessings those told and the ones I have so failed you in listing
Thank you Lord for this week
Walking by faith
Glenna