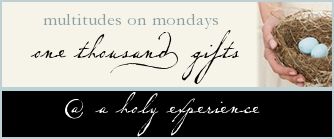 Giving Thanks to GOD this week for ..............
4289 Monday ~~For this day !!!
4290 That I have this day to clean house and that I now have it finished
4291 For a evening with my husband to do nothing ...........praying his knee feels better
4292 Tuesday~~For this day !!!
4293 For nice long baths rather than a shower
4294 That my knee allowed me to get in the tub
4295 I just cant thank GOD enough for the touch he has given to my knee
4296 Wednesday ~~For this day !!!
4297 For the sun shinning so bright on my way to work , that I could stop and take some
pictures of the beauty of this day
4298 For the time to study more in the fruits of the spirit study ~~Thank you GOD
for your faithfulness
4299 Thursday~~~For this day ~~ a Fresh start at tiring to do better !!!
4300 For my husband visiting me at work today
4301 For packing a box for operation Christmas child ~~Samaritans purse
4302 For our round table prayers for others during ladies bible study
4303 For warm showers and hot rice packs
4304 Friday ~~for this day !!!
4305 For bedside coffee brought with a kiss and hug from the man I love ~I know I say this many many times but each morning it is one of my most precious blessings that he loves me to do this over and over again
4306 Studying the bible about gentleness
4307 Paying our bills = I am blessed to pay them = a thankful heart that GOD has supplied our needs
4308 Saturday ~~For this day !!!
4309 A call from Elizabeth wanting to know my email she hadn't forgot the picture I wanted
4310 Thankful for the gentleness that GOD is showing me
4311 Sunday ~~For this day !!!!
4312 That we have the freedoms that we have to worship freely
4313 That It was a beautiful day sunny, warm ...
4314 That my roses and some of the other flowers are still blooming = A happy and thankful KK