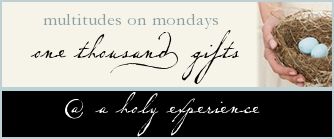 Giving Thanks to GOD this week for ..............
3790 Monday ~~for this day !!
3791 Sleeping in late = a extra day off
3792 Coffee and porch sitting =love being out with my husband to start the day
3793 Cleaning our house =I am blessed with a house that GOD has allowed me to borrow
3794 Cooked Supper == I have food to eat !!
3795 Cora inviting me to come pick blueberries which I did
3796 Talking to Ruth and Earlene
3797 Tuesday ~~for this day !!
3798 Cora bringing me more blueberries
3799 Mowing grass and watering my flowers = prayer time with the GOD of all creation I love prayer time outside
3800 Cooling off by porch sitting
3801 Wednesday ~~for this day !!! with Early AM porch sitting
3802 chatting with Estill early this morning about Heaven and our loss is heaven
3803 The look of love on my husband face when I came back in after forgetting something this morning
3804 That second morning Kiss and I love you
3805 Thursday ~~for this day !!!
3806 For the rain as it is much needed
3807 For being able to pay

our vehicle insurance
3808 That T's house was just a false alarm
3809 For time to read
3810 Friday ~~for this day ~~I REJOICE
3811 For The Sundae LC brought me !!!
3812 Long talk with a dear friend tonight ~~
3813 Saturday ~~for this day !!!
3814 That CW said he rested well
3815 Work passed by fast today
3816 For pedicures ~~and red nail polish =red my signature color for toes .... :)
3817 Sunday ~~for this day !!!
3818 The smell of my husband as he puts on his Cologne
3819 Church and our church family as we greet each other in christian love
3820 Children's church ~~the laughter and joy they bring (I think they all had chocolate before coming forward ~ the congregation sure enjoyed those young kids today so full of energy
3821 We broke ground for our new mission house
3822 My sister and I going to a few stores looking at purses
3823 Stopping by Alma and Charles = we left with a bag of fresh garden vegetables and left over Dinner = a wonderful treat
3824 Finally giving Champion his bath after church today
Many blessings I have received ....100,080 minutes that GOD allowed me THANK YOU LORD
for blessings on me ...............................
Loving JESUS
Blessings to all ~
May you count your many blessing too
Glenna