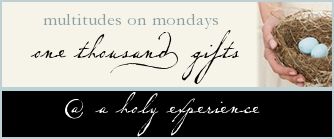 Giving Thanks to GOD this week for ..............
3391 Monday ~~for this day !!!
3392 For a day off
3393 Early morning working in the yard
3394 For naps to feel refreshed
3395 Tuesday~~for this day !!!
3396 Walking ....................
3397 Peaches LC brought from SC ....thanks so much
3398 Wednesday ~~for this day !!
3399 Going out before sunrise , enjoying the nature sounds roosters and all ...but most of all my time spend with GOD alone out on the porch My husband must know that I want to have some time with GOD early in the morning as he goes in before me ....oh how sweet to spend the time with GOD surrounded by his beauty
3400 Calls from flyer's we put out last night .....praying for a great day of sales on Thursday
3401 Kenneth cleaning our gutters
3402 To have the time to finish reading Heaven is for real -(that sweet little Colton boy)
3403 Thursday ~~for this day !!!
3404 For the sweet blue eyes coming to my side of the bed waking me to say I love you !!
Thankful for my husband
3405 So thankful for the busy work today ~~~blessed ~~~~
3406 LC getting us something for lunch
3407 That I took a stand for GOD and not backed down ........also that I can pray for this person to find GOD ....
3408 Friday ~~for this day !!!
3409 That I was out before sunrise sitting on the porch with my coffee .....
3410 For phone cameras ~~as my camera is not working
Porch flowers
My Lady Dog wanted to say she is thankful and wanted her picture taken
Just before Sunrise
The beauty of GOD's flowers
3411 For voice I just heard tell a young man you like his shirt ....and the young mans response was "I recently turned my life around " GOD is good ......
3412 For GOD's daily forgiveness when I mess up ...........
3413 Saturday ~~ for this day !!!
3414 That I made it to work on time ....as I overslept
3415 Ladders to help us do things needed
3416 Painters tape
3417 Sunday ~~ For this day !!!
3418 For the worship and communion service
3719 For the song ~~Battle Hymn of the Republic
3720 Finishing some taping of the walls ..