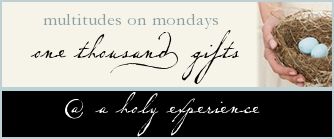 I AM THANKFUL FOR
1575 Monday~~ For this Day !!
1576 For no snow today and seeing the sun
1577 Getting a Appointment to see Dr Beeler this week ~~Thank you JESUS !!!
1578 All the ones that wished me Merry CHRISTmas today ( I have noticed more people are saying merry CHRISTmas this year )
1579 Talking to Amon about the Babe in a Manger and him showing me what the angel said in Luke chapter 1 said as I had never noticed this before
1580 My neighbors CHRISTmas lights
1581 Tuesday~~For this Day !!
1582 Bedside Coffee to wake me
1583 Reading the Upper Room and Today's word
1584 Lisa Wrapping my presents as its a job I am not good at
1585 Reading the O Holy Experience
1586 Being Busy at work !!!
1587 Wednesday~~For this Day !!!
1588 Nights rest
1589 No snow this am only rain !
1590 Blessings of CHRIST's love
1591 Getting to the Dr on time with all the traffic had 5 mins to spare
1592 Getting a injection in the knee from the nice PA guy !
1593 Having dinner with my husband who went with me to the DR
1594 Thursday~~For this Day !!
1595 Waking up earlier than usual ~to read my upper road and Today's word
1596 Talking with Greta and Aunt Lutie
1597 Another day of being busy =blessings
1598 For the CHRISTmas story below so cute
1599 laughter
1600 Children = much joy
1601 Denise bringing me Orange fudge ~~yummy
1602 Friday~~for this day !!! CHRISTmas eve
1603 Leaving for work and seeing the beautiful sky
the sky was more red than my picture taken with my camera phone
1604 Matthew 16 :3 NIV: and in the morning, 'Today it will be stormy, for the sky is red and overcast.' You know how to interpret the appearance of the sky, but you cannot interpret the signs of the times.
1605 All the colors I can see each day
1606 Praying people will know the true meaning of this evening and tomorrow
1607 Peace
1608 Joy
1609 Love
1610 My Pandora Charm, Chatty Cathy doll Ornament , and Beth Moore book from Lisa (thanks so much)
1611 Saturday !!CHRISTmas ~~for this day ~~~
1612 Singing Happy birthday to JESUS Early this morning
1613 Seeing the snow , it is beautiful
1614 JESUS the saviour that came to give me life and know the many blessings of life
1615 I am reminded when looking at the snow that white is a sign of purity and it was pure LOVE born many years ago ~~LOVE like no other ~~ one that will stick closer than a brother
1616 Talking with my KY family
1617 Fixing CHRISTmas rocks
1618 Fixing dinner for just my husband and I
1619 Reading the Upper Room devotional to my husband
1620 My husband saying Jan the first he is turning over a new leaf (praying this means he will be in church with me again )
1621 Linda telling me what a wonderful CHRISTmas she has had !!( She is so blessed I pray that she will really know the blessings she has and that they would find CHRIST in their life
1622 All the wishes for a wonderful CHRISTmas we have received praying those that wished us this will come closer to CHRIST if they aren't
1623 Aunt Jean and her telling me she leaves the Christmas candles (battery operated) on all night on CHRISTmas eve so JESUS can find her ~~such a sweet lady ~~
1622 Thank you JESUS that I got to clean one of our bedrooms and put up the new curtains and quilt that I had gotten ....Makes me feel so good ~~~
1623 My mother in law telling me how blessed she was with having to much stuff and needing to get rid of it ..I told her to bless someone else by taking it to the good will
1624 Blessed to get to stay in all day
1625 Reading blogs of blessings
1626 Thank you JESUS that you came to earth as a sweet little baby boy !!! = I am blessed
1627 Sunday~~For this Day !!
1628 Early morning coffee and to sit and enjoy it
1629 My husband that is back and knee is feeling some better
1630 More of the blanket of snow :( sad that we couldn't have had church but still blessed that I have a church home
1631 blessed to clean house and bath my champie dog
1632 For a break during the day of cleaning
1633 leftovers = no cooking today
1634 to sit quietly as my husband sleep no TV , just quiet time ..what a blessing to have
Many Blessings to each of you
Glenna