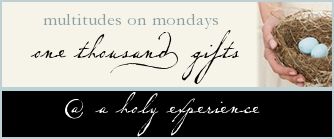 1465 Monday ~~For this Day !!!
1466 the roads not being bad
1467 Feeling the cold and knowing there is warmth inside
1468 Prayer time on my drive home this evening after work
1469 Mortron ~~Thanks Lisa !
1470 Tuesday ~~For this Day!!!
1471 my car finally starting !!~~Thank you LORD !!
1472 the sunshine in the snow !!
1473 the countdown to spring 103 days !!
1474 the Potter knowing the clay !!
1475 finding where to put the anti freeze
1476 CHRISTmas and knowing the real meaning !!!
1477 sitting in the dark looking at our little tree lights~~praying~~ and thinking about the light of the world that came to us that first CHRISTmas
1478 Laying in bed watching Tv with my husband
1479 Wednesday ~~This Day !!
1480 Waking up to hot coffee
1481 Watching the Today show and listening to how Elizabeth Edwards had been a inspriaton to many people
1482 Praying as I cleaned house today
1483 Thursday ~~~This Day !!!
1484 Coffee on such a cold morning
1485 The sunshine on such a cold day
1486 My simple Pleasure ~~love sharing and reading others
1487 My all time favorite Christmas Song brings me to tears each time
as I think of the Beautiful Star ~~~JESUS ~~~
1488 Blessed with tears as the HOLY SPIRIT moves in me !!!
1489 My Coffee mug LC left for me today
1490 Talking to my brother and him saying he felt some better ~~Thank you Lord !!!
1491 Friday~~This Day !!!
1492 the sunshine in my eyes on the way to work !!!!
1493 Missy taking Lc and I to lunch
1494 Seeing this Nativity scene at the bank tonight ~~Thankful that I live in a area that Business's care to make a statement for CHRIST !!!
1495 Warmer weather today !! love it !!!
1496 Saturday~~This Day !!
1497 Laughs over our ordering from ETS
1498 Making it safely to our CHRISTmas party
1499 That it didn't snow until right when I was about a mile from our home
1500 For laughs at the party and meeting some new workers
1501 Blessed to have the employers I have
1502 Talking to my husband until 2 am ~~way past my bed time I might add
1503 Sunday ~~This Day !!
1504 Sleeping a little later
1505 Looking at the snow
1506 Hearing the birds sing as I am folding clothes even in the cold and snow they still sing
reminding me that I need to Praise the KING of us all
1507 Listening to CHRISTmas music as I have my morning coffee
1508 A day of rest and watching the snow come down
1509 My talk with Nancy last night
Blessings to all Stay warm and safe
Glenna