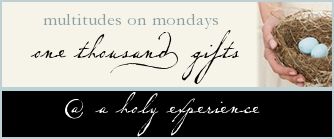 when someone gives you a gift, what's the first thing you usually say? "Thank you." When you give thanks, it's a sign that you are receiving the gift. Today, start receiving what God has given you by saying, "Father, thank You for Your mercy. Thank You for supplying all of my needs. Thank You for Your goodness in my life."
As you learn to give Him thanks, you are learning to receive from Him. Open your heart by faith today and thank Him for all the blessings He has prepared for you!
I am Thankful for
1510 Monday ~~This day !!
1511 Another day to watch the birds enjoy their food
1512 Going out and giving them more food in like 8 inches of snow
These pictures aren't very good as I took them from inside with my blackberry
But you can tell they love it !
1513 Thankful LC made it to work OK
1514 Thankful for seeing the sunshine in all the snow !!
1515 Thankful for finding one holy experience as I look at each day so differently now
1516 Thankful for hot Chocolate and marshmallows on this cold morning
1517 Thankful for a book my sister gave me sometime back to read at CHRSITmas ,(CHRISTmas purpose)
1518 The words from the book GOD loves you, GOD is with you, GOD is for you!!!
1519 Just to listen to the song Oh Beautiful star of Bethlehem ~blesses me so ~~knowing that my redeemer , Saviour, and King shines ever so bright !!
1520 Making it safe to work ~~late but safe
1521 Leaving work early ~~got home safe
1522 Lc letting me wear a pair of her socks as mine got wet
1523 People caring to let me know about the road conditions
1524 To have made the CHRISTmas rock cookies my sister in law always made
1525 Talking to my SIL ~~she has such a good heart
1526 Tuesday~~This day !!!
1527 Neighbors that care
1528 For this song below that was sent to me
1529 Safety to work
1530 Even when its snowing and cold I can still see the sun this Am
1531 That JESUS washes us whiter than snow !! Psalms 51:7
Purge me with hyssop, and I shall be clean: wash me, and I shall be whiter than snow
1532 GOD uses simplicity for me to better understand and see
1533 Reflections to remind me that GOD's love needs to reflect from me like in the picture below
1534 LC got my lunch when she got hers
1535 My car started ~~Thank you JESUS
1536 The roads are getting clearer
1537 Reading more in the purpose of Christmas
1538 The daily One Holy Experience sent to my email how GOD is using this lady Ann
1539 Jim coming in and talking about how GOD has touched him and also about Haiti as LC wants to go on a mission trip ~~~LC praying that all works out for you to go = where GOD leads LC she will follow
1540 Wednesday~~This day
1541 Tears of JOY this early morning as I heard a man in FL tell he knew the higher power GOD was protecting them from being hurt ~~this was a school board meeting a Guy started shooting
1542 Lamentations 3 :22-23
1543 My car started Praise GOD
1544 Taking pictures of the beauty of snow this morning on my way to work
Country Morning in my neck of the woods and praising GOD for Nature
let Heaven and Nature sing !!!!
1545 Free IH paper
1546 My husband running the vacuum
1547 Getting home before it started sleeting
1548 Reading to my MIL about the CHRISTmas purpose
1549 Thursday ~~For this day !!!!
1550 sleeping in a little later
1551 coffee being brought to my bedside
1552 Reading again to MIL as I am trying to get her in the SPIRIT of CHRISTmas
1553 For my husband helping me stir the cookie mixture
1554 Having the day off
1555 Talking to Ruth ~~blessed with a BF that has stayed my BF Thur the years and miles apart
1556 Friday~~For this Day !!
1557 That good Ole Morning coffee
1558 That GOD guided my car when I was on Black Ice this morning ~~Thank you LORD !!!
1559 Safety in getting home no black ice !
1560 Saturday~~For this day !!
1561 Blessed with a cup of coffee while laying in bed
1562 No black Ice this Am just snow
1563 Lisa going and getting lunch the past two days ~~Thanks LC
1564 Being busy at work
1565 Getting in under the fuzzy to get warm when I came home
1566 For silence to look at the CHRISTmas tree lights
1567 Knowing GOD is leading me ...
1568 Taking Keenan some CHRISTmas rock cookies
1569 Sunday~~For this Day !!!
1570 Getting up early enough to do a few things before Church
1571 Thankful for the Church and my Church family
1572 Worship and Praise
1573 Safety in our Travels for a little shopping
1574 Listening to CHRISTmas music and see some lights tonight
Oh beautiful for Spacious skies !!!!
May the coming week... you see more of CHRIST in everything you do, and let us not forget who and why we are getting together with family and friends .
For those that doesn't know CHRIST in a personal relationship may we shine brighter with his love so that they may want to know this CHRIST we know