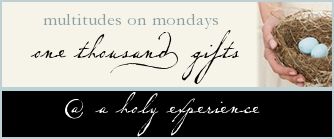 Trying to count the multitude of blessings is like standing on the shore trying to count each grain of sand
Endless........................................
Giving thanks To GOD this week for
6929 Monday ~~~For this day !!! For the love, hugs, kisses from CW each day , for CW fixing dinner tonight .for riding my walking and riding both bikes , love riding my bike to feel the breeze and wind in my face ~~I am a child again riding ~~~ Thank you Lord that you touched my knee and that you continue to touch my knee PRAISE GOD !!!
6930 Tuesday ~~For this day !!! For the little hummer I saw this morning at my flowers , Walking tonight at New Haven 2 1/2 miles, for evening of porch sitting while doing my prayer time and devotional ,for answered prayers and for answers that are on their way
6931 Wednesday ~~For this day !!!63 degrees at 6 30am so I can porch sit in the warmth of early morning my prayer time on the porch, PRAISE GOD for my husbands report on his heart, prayer time I know GOD listens to my cries
6932 Thursday ~~For this day !!For having the next 5 days off , safety to eat lunch out and buy some groceries, A dear friends message to me today how blessed I am with my hometown friends
6933 Friday ~~For this day !!! safety and protection, shelter, for bedside coffee each day this week that my husband has brought me how blessed I am with his love for me Listening to neighbors kids and grandkids play, laugh, and play the trumpet as I sit on the porch this evening
6934 Saturday ~~For this day !!! hearing the rain early am., opening doors and windows for the fresh air as I clean, going to heritage days even in the rain, the new Mexican restaurant my husband wanted to eat at , attending a country wedding this evening
6935 Sunday ~~For this day !!! Church service this morning the preaching speaking from 1 Samuel 30 title of his message was I fell sick, sick to sin ..... for crockpots to have a roast ready after church
my neighbor stopping by sharing her son getting saved this morning ...PRAISE GOD for him
for tears from both of us as we shared some good things from GOD !!
GOD I sure am a blessed gal and just want to say Thank you LORD !!!!