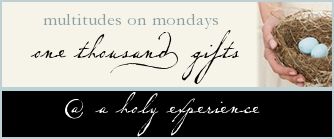 Trying to count the multitude of blessings is like standing on the shore trying to count each grain of sand
Endless........................................
Giving thanks To GOD this week for
6908 Monday ~~For this day !!! early morning eye apt/, picking up Lady dog at the vet to find her all wrapped in a blue quilt tied nicely with white satin ribbon, RIP Lady dog you are home where you loved to be, being here today with Chuck , for our porch sitting several times today, love, hugs, kisses, mowing weed eating early in the day Chuck and I to get subway and go to the park,
for those beautiful blue eyes looking in on me :))
6909 Tuesday ~~For this day !!! the early morning porch sitting I am so blessed to be outside, thank you Lord for this beautiful day
6910 Wednesday ~~For this day !!! for warm sunny days to be able to go to the park to walk the track ,
my time with GOD, he listens to my cries, my wants, my my everything ....
6911 Thursday ~~~For this day !!! the foggy mornings, then the beautiful sunshine though the day
walking the track tonight
6912 Friday ~~For this day !!! another morning to enjoy having our coffee on the porch before sunrise
to see the sunrise , for tears that we shed each day for our best friend Lady ....oh Lady how Chuck Champion and I miss you ...Champion looks for Lady each morning, we cry and cry , for the stake that has Lady's picture ......for walking and bike riding around our lane
6913 Saturday !!For this day !!! for another morning of seeing the sunrise , walking the track after work, the dark clouds rolling in making me aware of the storm coming in, blessed to got to the grocery before
the rain for shelter from the storm,
6914 Sunday ~~For this day !!! a beautiful day , Coffee brought to my bedside each morning this week before going outside, for love , for faith, for my prayer time, for a job , for alone time ,
Thankful for this week of enjoying our porch each morning and evening soaking up the warm mornings
I am blessed with a simple life, for a simple gal !!!