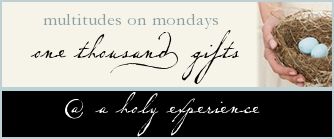 Trying to count the multitude of blessings is like standing on the shore trying to count each grain of sand
Endless........................................
Giving thanks To GOD this week for ...............................
.
This helps me each week to give thanks remembering the little things as well as the big ones !!!
6585 Monday ~~For this day !! that a new job is all in God's hands the interview was for Part time after I got to the interview now knowing this wasn't God's plan for me at this time Thank you Lord for the plan you have for me . For my walk at the track this evening , nightly devotionals ...
6586 Tuesday ~~For this day !!! the love, the hugs, the kisses from the one I love !, for time in the sun on the deck this morning, having a home to clean, food to cook, the day off from my current job. a much needed haircut, mowing and weed eating tonight t nightly devotionals and that I read these to Champion ~~amazing dog~~
6587 Wednesday ~~For this day !! a Porch to enjoy the morning with my husband and doggies, another day off , for grocery shopping, eating lunch at crackle barrel, safety in travels today, my prayer and study time with GOD .....
6588 Thursday ~~For this day !!! that GOD woke me up this morning , for all the beauty that I see and hear each day ~~~HOW GREAT THOU ART~~!!!!
6589 Friday ~~For this day !!! for the quietness , the calm , the beauty, that I see and feel when I am walking on the track .......................
6890 Saturday ~~For this day !!, morning coffee out on our porch , for hugs and kisses from CR
6891 Sunday ~~For this day !!! Outside early to porch sit , thanking GOD for this day , that he allowed me the beauty of the early morning sunrise, the sounds of nature.
For safety to Ktown and back thanks to LC driving in the pouring rain
Thankful for this week and every week that GOD listens to my wants more than my Praise
GOD I PRAISE YOU !!!