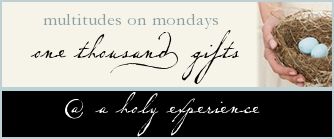 Trying to count the multitude of blessings is like standing on the shore trying to count each grain of sand
Endless........................................
Giving thanks To GOD this week for ................................
This helps me each week to give thanks remembering the little things as well as the big ones !!!
6564 Monday ~~For this day !!! the freshness that I feel with each new week and morning .
6565 Tuesday ~~For this day !!!
6566 Wednesday ~~For this day !!
6567 Thursday ~~For this day !!
6568 Friday ~~For this day !!!
6569 Saturday ~~For this day !!
6570 Sunday ~~For this day !
What if you gave someone a gift, and they neglected to thank you for it--would you be likely to give them another? Life is the same way. In order to attract more of the blessings that life has to offer, you must truly appreciate what you already have.-- Ralph Marston
Each day I received many gifts, porch sitting with my husband with our morning coffee to enjoy another
sunrise, to be able to ride my bike and walk the track, as I walked the track each night I think GOD that I have that time to pray, and talk to GOD I asked GOD something the other night on my walk and heard the answer from GOD love his voice. for others that are giving
Thankful for doing my nightly devotionals outside on the porch and how my lady dog knows to sit and just look at me and be still as I read and pray ~~What a sweet doggy
I have had a week of shelter, food, clothes a job , sunshine from the SONshine............
For each day I am blessed beyond measure , Jehovah Jireh = the Lord will Provide