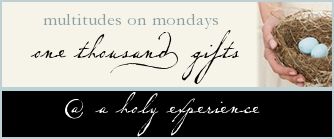 Trying to count the multitude of blessings is like standing on the shore trying to count each grain of sand
Endless........................................
Giving thanks To GOD this week for ................................
This helps me each week to give thanks remembering the little things as well as the big ones !!!
Gratitude unlocks the fullness of life. It turns what we have into enough, and more. It turns denial into acceptance, chaos to order, confusion to clarity. It can turn a meal into a feast, a house into a
home
, a stranger into a friend. Gratitude makes sense of our past, brings peace for today, and creates a vision for tomorrow..................
6571 Monday ~~For this day !!! for the sunrise I see as I sit on the porch this morning, for the kiss each morning, for three calls while I am at work saying I love you ,
6572 Tuesday ~~For this day !! Having this day off , for cleaning house = I have shelter from the elements
6573 Wednesday ~~ For this day !!! Morning porch sitting , enjoying Nature
6574 Thursday ~~For this day !!!Freedom , freedoms that I take for granted each day
6575 Friday ~~For this day !! The little puppy was ok , Tears shed for knowing that GOD created
all things, as the bible says in Psalms let everything that hath breath PRASIE THE LORD
6576 Saturday ~~For this day !!! Having the day off , that Champion is ok
6577 Sunday ~~For this day !!! Having the day off
We have had many days of rain and I mean rain , I know that I must be thankful for the rain as well as the sunshine for the Rain I know the Lord knows what we need.
Today as I came out of Church the Sun was shinning so nice ..beautiful just beautiful
I came home and changed clothes and got out on our deck to enjoy the Sun, as it felt so
good on my skin , After sunning I was able to walk and ride my bike this evening
Going back and looking at older Multitudes 1170 ~~true ~~