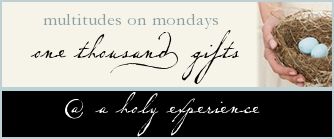 Giving Thanks to GOD this week for ..............
4004 Monday ~~for this day !!!
4005 For hearing ~~the much needed rain thru the morning hours
4006 Talking with Gaye this morning

The blessings of a big family
(there were nine of us brothers and sister and we have now two in heaven that we miss along with our Dad and Mother)

are only seen by a few

A few of the chosen ones

that God has given this blessing too



The blessings are so numerous

it's hard to even start

to number or to name them but

they all hold a place in the heart



The heart of every person in a

big family is unique

it's uniqueness makes us special

and should not be critiqued



The memories that are made

are more precious than gold

from babies to weddings

from young and to old



From grandparents to grandchildren

and everyone in between

the many special relationships that are built

and could have never been foreseen



Thank you God

for my big family I will treasure

through the good times and bad

the memories could not be measured



Thank you God

for birthdays, simple get-togethers and even the tears

for I pray that these blessings

last many, many more years



To have a big family

can be a lot of work, not just play

but life is too short

so I THANK GOD FOR MY BIG FAMILY TODAY and Each day

4007 For My husband and I talking about the rain last night and him saying what he did about GOD's tears .......
4008 Tuesday~~For this day = Thank you Lord for giving me this day ~~May I use it to glorify you !!!
4009 For arthritis medicine
4010 For warm fuzzy throws when you are cold


4011 Wednesday ~~For this day !!!
4012 Water ...to turn on a faucet and water to come out ..one sure misses it for just a few hours
4013 Having a day off and being Lazy on this cold, rainy day that I am thankful for
4014 Aunt Lutie and talking with her on her birthday
4015 Also Mikie's birthday and talking and texting with him
4016 Technology that allows me to call and text those near and far


4017 Thursday ~~For this day !!!!
4018 Cofee in the bed delived by my husband
4019 Thew new bible study that started tonight Fruits of the spirit

4020 Friday ~~~For the gift of today !!!
4021 For hugs, and I love you,s till we meet again
4022 For Love
4023 For the Orange Thank you Lord for showing me
4024 Studing in Galations
4025 Bibical Paul and he stood strong and Bold when he was knocked down he got up , To go Boldy telling others of our CHRIST !!!!
4026 Saturday~~For this day and all the blessings it will bring !!!
4027 The sunshine after five days of clouds , I know we have to be thankful for the cloudy days as well as the sunshiney days so Lord I thank you for both !!!
4028 To sit outside in the warm sun, at work
4029
Sunday ~~For this day !!!!
4030 For the beautiful sunrise this morning
4031 For the safety to Gburg and back
4032 For studying in the bible study of fruits of the spirit
4033 The love of JESUS and how Matthew 26 spoke to my heart this night
I am so thankful for all things this week , Studying in Matthew about how JESUS was treated
and that he did it just for me I am so Thankful for my HEAVENLY FATHER !!!!