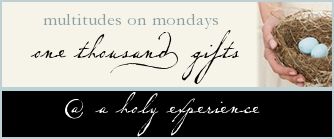 Giving Thanks to GOD this week for ..............
3975 Monday ~~For this day !!!
3976 For a extra day off
3977 For finding the plastic bins my husband wanted and organizing them
3978 Wal Mart having a replacement gas cap tonight that I lost
3979 Thank you Lord for one of a family member getting saved ..I am praying and thanking GOD to work Thur this young man to save the entire family ...as this would make my brother so happy .
3980 Tuesday ~~For this day~~that its a new fresh day to start over and try again !!!
3981 Being back to work after three days off
3982 Thankful for the picnic after work
3983 That we had a big laugh about Brooksters big burp ...
3984 Children playing and saying hello to people they don't know
3985 The sunset as I was leaving the park
3986 Wednesday ~~for this day !!!
3987 Early morning coffee on the porch
3988 Watching one of GOD's little birds perched near me
3989 Thankful to pay the water, gas, Electric, phone etc ...thank you Lord
3990 For reading in Mark
3991 Thankful for the work in my yard and prayer time ....I know I say this over and over about my flowers and time alone with GOD in the garden and porch last night was just awesome ..I just cant begin to tell you how the Holy Spirit moved as I prayed ...it brings tears to my eyes again typing this .....thank you Jesus for your love, and just being as close to me as the air I breathe
I am just in Awwwww
3992 Thursday ~~for this day !!!
3993 A visit from Martha ~~a woman who has been Thur a lot in her lifetime that still can laugh and enjoy life
3992 Thankful for dinner with Lisa, Vicky and Cortney
3993 For Vicky's kindness of paying for our dinners
3994 For Lisa driving also for our safety there and back
3995 Friday ~~for this day !!!
3996 Seeing another sunrise on my porch
3997 Water= I can water my flowers that are in need
3998 For those that have a long weekend
3999 Saturday ~~for this day!!! its a present from GOD
4000 Sunday ~~for this day !!!
4001 Another day to worship with my church family
4002 Taking my sister to the park and going to sonic
4003 Much needed rain !!!
Thank you Lord for another week of many blessings !! How great your love is for me
I am in awww of your love for me ..Feel me more with your Holy Spirit ............
Blessings to each
Glenna