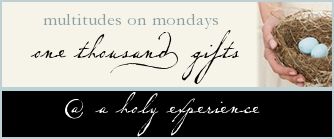 Giving Thanks to GOD this week for ..............
3357 Monday ~~for this day !!!
3358 Being home in bed with my pillows =a good nights rest last night
3359 For the flowers that I stopped to view in my yard before going to work
3360 That I am finding out each day just how blessed I am ...........
3361 Tuesday ~~For this day !!!
3362 Getting to the Dr very early for lab work and was able to be at work on time
3363 For songs that speak to my soul
3364 Thankful that a long time friend William cam Thur surgery OK
3365 For umbrellas
3366 Wednesday ~~for this day !!!
3367 Martin's kindness for lunch today
3368 Thankful for open windows listening to the rain
3369 For my best friend my husband
3370 Thursday ~~For this day !!!
3371 For lower humidity
3372 Psalms 91
3373 Coming in from work and just resting for little bit =a comfy bed for a tired body
3374 For Maloxx and Gaviscon = makes a tummy feel better
3375 For the rainbow reminding me of the covenant
3376 Friday~~for this day !!!
3377 Nature signing early this morning
3378 The beauty that surrounds me each morning
3379 For a very busy day at work ~~Thank you LORD for your blessings on me !!!!
3380 For the new baby and momma stopping by ~~how blessed they are
3381 Planting some tomato plants my brother gave me
3382 Saturday ~~for this day !!!
3383 another day of being busy at work
3384 That God strengthens us when we feel weak
3385 For a Lady saying she will SHARE some of her day Lillie's
3386 Sunday ~~for this day !!!
3387 A new pastor ~~~bringing a good message on Act 5
3388 That I am learning more how PRAISE GOD for all things just as the pastor spoke in ending his sermon .
3389 Thankful for a church family
3390 A day of rest
This week I have thought would be my last week to blog multitudes but how can one stop
with so much to be thankful for and this keeps my mind set on being thankful as I need to keep thanking GOD for each day and all that is in each 1440 minutes
I thank GOD for this wonderful blessed week and each day that I have been blessed with
Multitudes has make me stop and look at the little things in life that truly are the big things
and the most precious to us ..................
May you have a blessed week
Glenna