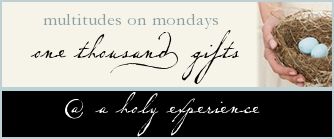 Fifty Five weeks of thankfulness oh how this has changed me !!!
Thank you Lord for the blessings I have mentioned and the ones
I know I may have forgot.
Thank you Lord for your blessings on me
3390 Monday ~~for this day !!!
3391 My third day off in a roll
3392 To porch sit and enjoy my fresh mulched landscape ~~I just cant thank GOD enough for this!!!!
3393 That I have got my living room/dinning room spring cleaned , walls washed , curtains washed , windows cleaner = the smell of clean.
3394 Thankful for another praying porch sitting evening
3395 Tuesday ~~~for this day !!!
3396 For dental hygienist = I have clean teeth today
3397 For Dental Ins
3398 For Gospel Radio on my way to and from the dentist =I can sing loud and no one but GOD hears me
3399 For watering my flowers and a evening a quiet rest
3400 Wednesday ~~ for this day !!!
3401 For blessings of the early morning sunrises
3402 For Knowing GOD is in control in our concerns for a long time friend
3403 For the long talk with Lucy
3404 Thursday~~for this day another beautiful day that GOD has given
3405 Breakfast out on the deck
3405 Thankful for my morning out on the deck for prayer time ........................
3406 For our lunch today LC brought
3407 For the bike and trying to ride it .....
3408 To hear that Betty is some better ~~Thank you Lord
3409 Friday ~~for this day !!!
3410 For Remembering the words my husband said to me last night "I cherish you more than you know "..............
3411 Music as it speaks to my soul !!!
3412 Saturday ~~for this day !!!
3413 Watering my flowers before sunrise
3414 Getting to my car just in time before the rain came down, also for the much needed rain
3415 Getting to talk to Betty this morning ~~
3416 Sunday~~ for this day !!!
3417 Text from my cousin
3418 Having a very restful day
3419 Learning to make home made biscuits
3420 The book of James
3421 The sun beaming Thur the clouds Reminding me of the song Heavenly sunlight
3422 Seeing Kids playing , having fun
Blessings to all
Glenna