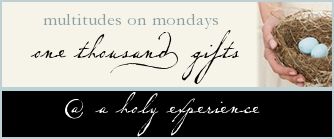 3345 Monday ~~for this day !!!
3346 Thankful for the ones that have fought for our freedoms
3347 Thankful for getting off work at 3
3348 Thankful for Lisa coming to help me move some things
3349 For getting the porch water sealed
3350 For sweat from working outside
3351 For Ice water after the work
3352 For my neighbor walking over for a visit as I cooled off
3353 For cool showers and AC
3354 Tuesday ~~for this day !!!
3355 For V bringing our checks = thankful for payday
3356 For LC bringing a great lunch
3357 For mowing and weed eating ~~love it ~~
3358 For prayer time with GOD during mowing and for singing as no one can hear me so I can sing loud
3359 For knowing that heaven is REAL and telling my niece that yes it is REAL
3360 Wednesday ~~~for the gift of this day !!!!
3361 Breakfast outside on the deck
3362 Morning Kisses from my husband
3363 Is. 58:10
and if you spend yourselves in behalf of the hungry and satisfy the needs of the oppressed, then your light will rise in the darkness, and your night will become like the noonday ~~
3364 Getting everything back on my porch = I got to porch sit some = I am blessed
3365 Thursday ~~for this day ~~~its GOD given and may I always be thankful for each day !!!
3366 Porch sitting with my husband with our morning coffee watching the sunrise and our birds
3367 These words have I heard over and over in my head .....I had to find the chours to the song
Oh Lord I am so Happy since I 've learned to pray , I started for heaven I'm well on my way , I have chosen the right way with the Lords faithful few I started for heaven and I mean to go Thur ...........................
3368 Love what a blogger said today to me ~~~Wishing you glimpses of heaven in unexpected places~~~~ love what she said
3369 Thankful for Simple Pleasures as it has made me look at the little things in life in a new way
3370 For a neighbors text wanting to know about the sunrise each morning
3371 Friday ~~~ for this day !!!
3372 Early morning porch sitting ~~ seeing nature at its best ~~ the birds, squirrels
3373 Missy coming to visit and getting lunch for us
3374 For a busy day at work ~~If you read this please pray that we would stay busy with
our work that we do ....
3375 Thankful that I know the GOD of more than enough !!!
3376 Thankful to get shrubs trimmed and some of the mulch down ~~Thank you LORD for blessing me with this yard ...as the LORD know how much I love this
3377 Cooling off at dark on the porch ~~love it
3378 Saturday ~~~for this day !!!
3379 A day off --leading to a three day weekend
3380 My husband fixing the hose keeper
3381 Breakfast with my husband ~~that I wasn't prepared for seeing anyone ....oh well call me
Elner Shimfissel ....:)
3382 Thank you Lord for allowing me to finish the landscaping tonight ..
3383 For water hose to water my flowers and me
3384 For porch prayer time ........in the quietness of the late evening surrounded by GODs beauty just me and GOD !!
3385 Sunday ~~for this day !!
3386 The gentle breeze of this morning while enjoying nature as GOD has so richly blessed us with
3387 For breakfast on the deck
3388 For my church family
3389 For our church reaching out with the mission house , thankful that we have outgrown the old house and will be building a new one to serve the many that are in need of food ..............Our mission to serve others .....may those that come find the Lord with they don't know him is my prayer
Thanks be to GOD that he has given me all these gifts , each week ,
When I look back on these 54 weeks how amazing and how blessed
I am ...THANK YOU LORD for all your blessings on me ~~Amen~~
Blessings to each of you
Glenna